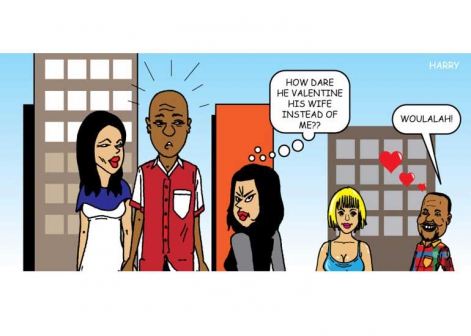 Some women get blessed, while others are just my friend Beryl, there upstairs, falling off 'boda bodas' and writing about schools flying the little daughters of the ultra-rich off for holiday in the Seychelles. Never mind that international schools do not take young students to international destinations.
What for, when the parents can do it themselves, during school breaks like Easter?
You heard Lucy Kibaki's daughter say it herself during the First Lady's funeral – that her favourite memories of her mom are of them abroad on holiday when she was young.
Away from lifestyles of children of the very rich, let us reach out to those women, today, 'blessed' by rich or even averagely well-off men, or what some would call members of the upper middle classes.
When you are being 'blessed' in this way, you are not in a normal relationship and cannot operate any which way you please, willy-nilly like Willy's willy, and must adhere to some basic rules to keep the blessings flowing your way.
For example, you cannot whine about where he was on Valentine's Day. Of course he had taken his wife to wine and dine!
If he wants to moan about 'mama,' let him, but you as the blessed one, must never join that chorus.
If he despised 'mama' that much, he would leave her for you.
There is this scene in the series 'Narcos' (burn it like crack this weekend and watch it) where Pablo Escobar's mistress asks him if his wife offers him a certain exclusive backroom service, so to speak.
READ MORE
Grabbing her by the throat – she is a television presenter – Escobar tells her to "never speak again about my wife, the mother of my children, in that manner or I will kill you." After all, her sponsor was the 1980s Colombian king of coke who ordered the killings of over three thousand people, six hundred of those police officers, as boss of the notorious Medellin Cartel.
Talking of death, a blessed lady ( small 'b', because we are not talking Blessed like Sister Nyathii here) must avoid bringing Collo from the gym over to her house for some gymnastic antics, simply because she is tired of the paunchy roll and groan mini-action of her main sponsor.
Collo will either get shot dead in bed after 'mzee' returns early from his trip to Malaysia.
Or Collo will throw mzee over the balcony of the seventh floor apartment he has rented you.
Either outcome is undesirable, as both will leave you without a sponsor.
Then there is the English saying – 'make hay while the sun shines.'
Blessings come, but they do not usually last forever.
So while you are in the good graces of the Almighty Sponsor, use his connections to get that Sh90,000 a month job, open a business or two on the side, and save every penny that you can for a rainy day.
This is not the time to settle your big bum on the couch all day and catch up on every series in the world (unless it is 'Narcos'), splurge on shopping and take out your envious girlfriends (who thought you'd 'never make it') to Naivasha and Mombasa every other weekend, just to show how far you've come. Always remember 'maisha ni muviringo.'
If you have no kids with the sponsor, and want children, and he does not, the answer is not to get tois with another fellow unless you are prepared to lose that lavish lifestyle. If you already have a child with him, that's your lifeline. Make sure they get and stay close.
But when a blessed woman gets a second child with another man, who then moves into the house the sponsor is paying for, do you really expect him to now support the four of you, just because his own child is in the mix?