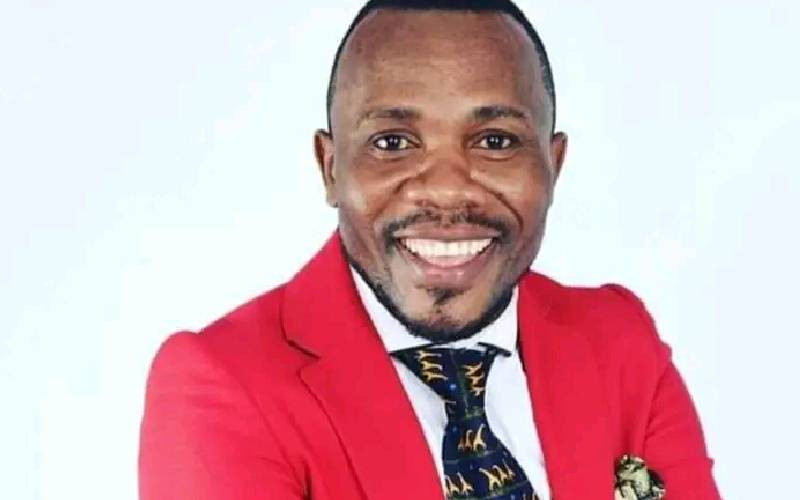 Gospel songster Samuel Ilagosa popularly known by stage name 'Ilagosa wa Ilagosa' has passed on in a Nairobi hospital.
This was confirmed by his friend Musalia Mudambi.
Mudambi noted that Ilagosa passed on after being unwell for two months but the cause of his death is still scanty. He said the ordained gospel singer, Ilagosa passed on Friday afternoon while undergoing treatment.
''He has been unwell for about a month now and I am trying to reach to his family so that I get more information on the cause of his death,'' said Mudambi.
His death comes a year after the burial of his mother Clementina Adema Ilagosa on December 18, 2021.
Ilagosa who hails from Bugina Village, Busali ward, Vihiga County has been ministering through gospel music which has been blessed many souls sharing stage with renowned gospel artist like Solomon Mukubwa.
''This was a guy you could hold on for any advice and comfort at any given time. Through his creativity, Ilagosa made immense impact which not only elevated the Luhya musician who touched the lives of many. Ian heartbroken to have lost such a talented and kind soul,'' Mudambi said.
But a year ago, during an interview with him, a youthful Ilagosa observed that he had a calling to minister through the gospel and that is what he does to his best.
''I am prophet Ilagosa, called by the Lord and out to preach His gospel through music,'' Ilagosa said.
An alumni of Kakamega high school, Ilagosa went to University of Nairobi before moving to Kericho where he went through shear in life before rising to stardom. He did odd jobs which included collection of garbage and guarding homes.
''I walked with sleepers held by a wire mesh for some time before I got my set of Sandak shoes which was a luxury to me,'' he added.
Ilagosa said, he served in church for Seven years as a cleaner and watchman in Kericho where he spent most of his life before he got saved.
Ilagosa said, after leaving Kericho, he was employed by the late gospel songbird Angela Chibalonza as a house boy where he was inspired to joining gospel music.
''I didn't know even how to produce a good voice, leave a lone singing. While at Chibalonza's place, I met Solomon Mukubwa who really inspired me and from there, I joined the industry,'' he said.
The artist said, he converted and got salvation from the challenges he was going through.
''I was going through a lot of challenges and decided to take a new course which yielded. With the gospel, I got a fresh start,'' he said.
Through his work, he inspired countless individuals to dream and pursue their passions through his unique sound and soulful lyrics captivated listeners. From the streets, to being a great gospel minister, Ilagosa believed that he was
Some of his notable hits include Mungu Wangu, Sala Zangu, Sema Nami, Ni Kwa Neema,
''Getting to where Iam now was not a walk in the park. Even when I ventured in music, to some extend it was not paying off and resorted to quit. Since I had a calling, I decided to stand still,'' he said.
Waniwazia Mema, Wastahili, Kaa name, Niguze Tena, Hakuna Kama Wewe and Twanyenyekea among others.
In his new resent release, New Chapter, Ilagosa say it was a revelation of those whose life had been shuttered because of Covid-19.
His close friend Hezron Marwa mourned him saying it was barely few days since they had a phone call.
''I sombrely remember 4 days before you were pronounced gone, we discussed on a phone call our way forward and you prayed for me, discussing about working together on your next project,'' Marwa said.
''But the will of God for you is home. With great shock I accept the saddening message this afternoon that you are gone. R.I.P Man of God Brother Ilagosa Wa Ilagosa.''
Ilagosa has been a notable figure in many churches whiere he has been called to curtain raise many overnight prayers, crusades, church conferences and political rallies where he was known to pull crowds.
''Through his music, Ilagosa brought joy and comfort to those who were blessed to experience it.
He was a true testament to the power of the human spirit, and his legacy will live on through his music,'' Rose Amudavi, a chairlady, Friends Chavakali Choir who once invited him for a church function.
Related Topics