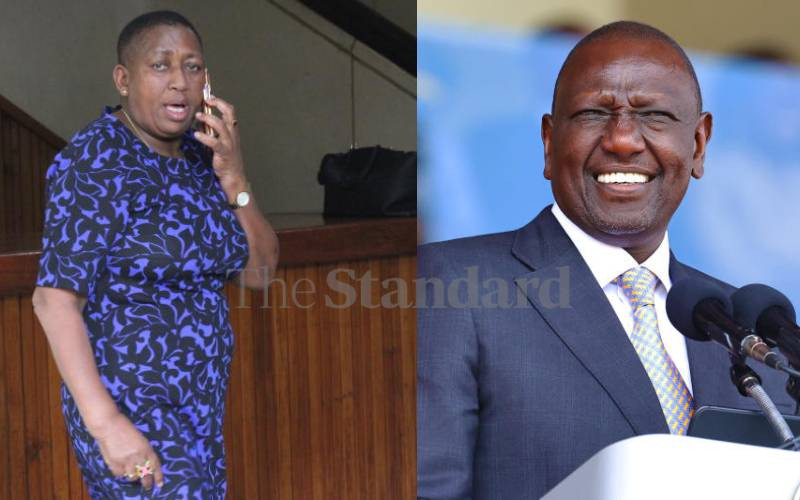 Mary Wambua, an ally of President William Ruto is the latest beneficiary of 'freedom has come' wave. This is after the Kenya Revenue Authority (KRA) withdrew a Sh2.2 billion tax evasion case against her on Tuesday 12 January.
Wambui, currently the Communication Authority of Kenya (CA) chairperson, was all smiles in court after the Office of Director of Public Prosecutions (ODPP) acceded to a request by KRA to drop the corruption case against her company, Purma Holdings.
In December 2022, KRA told the ODPP that it had struck a deal with Wambui for 'payment of taxes established' but did not produce details of the same.
KRA Commissioner Paul Matuki cited Section 109 of the Tax Procedures Act, 2015, which grants the taxman power to compound the fine a tax offender would have been handed by the courts with the original tax obligation. This happens only if the offender admits to the offence in writing and requests for this process.
When KRA compounds a tax offence in this manner, the offender cannot be held liable for prosecution or penalty in respect of the same matter. KRA's order is treated as proof of conviction of the offender.
Deal not made public
Because the full details of the deal between KRA and Wambui were not shared in court or in public, the amount of money she paid may never be known.
"Dear DPP ... the matter has been compounded and the taxpayer has an arrangement with the commissioner for payment of taxes established. In light of the circumstances, we request your office to facilitate the withdrawal of the charges pending before court in accordance with Section 204 of the Criminal Procedure Code," Mr Matuki wrote in early December, 2022.
On December 21, KRA's Commissioner for Investigations and Enforcement, through Sheila Sanga, wrote to the ODPP once again, reminding him to "facilitate the withdrawal of the charges when the matter comes up in court on January 10, 2023."
"Following successful compounding of offences on December 6, 2022, and subsequent payment of fines imposed, the authority now wishes to withdraw the matter pending before court under Section 204 of the Criminal Procedure Code through the Investigating Officer," Ms Sanga wrote.
Wambui, together with her daughter Purity Njoki Mungai and company Purma Holdings Limited, had been charged with three counts of omitting to make returns of an amount that should have been included, failure to submit tax returns by due date, and failure to pay tax by due date.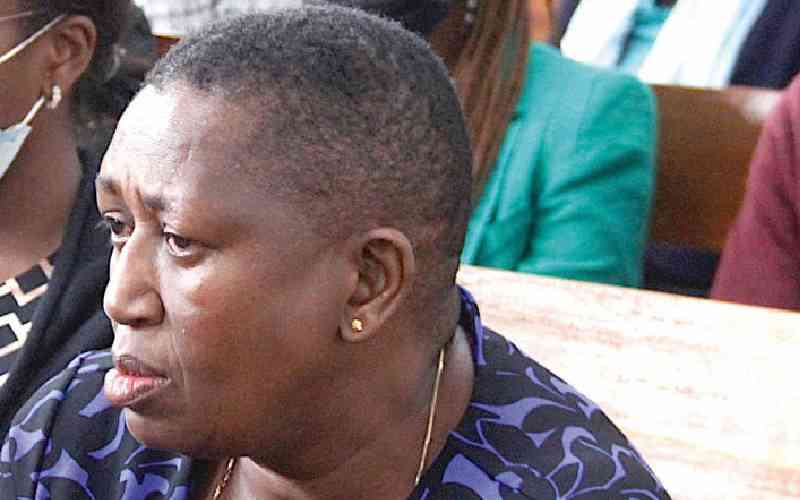 As a result, KRA had argued it lost Sh2.18 billion in taxes, accruing from failure to include Sh4.5 billion income she made after supplying several government agencies. The supplies were made between 2015 and 2019.
10 years in prison
For the offence of omission, the penalty is a fine not exceeding Sh10 million or double the tax evaded, whichever is higher, or imprisonment for a term not exceeding 10 years, or both. For the offences of failure to submit a tax return and pay tax, the penalty is a fine not exceeding Sh1 million and imprisonment for a term not exceeding three years, or both.
The due tax, Sh2.1 billion, is to be paid despite prosecution.
"The amount of any tax or late payment interest due and payable under a tax law shall not be abated by the prosecution of a taxpayer for an offence under a tax law," Section 108 of Tax Procedures Act, 2015 says.
Close ally of President Ruto
In political circles, people call her 'Wambui wa Ruto' presumably out of her known close relations with the Head of State. At the same time, she was a major financier of the Jubilee Party campaigns.
A quiet woman, over the years she has inked major government tenders, including supply of military uniforms, carving an enviable place for herself in Uhuru administration circles. When Ruto was swron-in as President, she was among the first businesspersons to visit him in State House, and was subsequently appointed chairperson of CA Board.
The case lodged in 2021 at the height of KRA's purge against businesses that were allegedly not paying taxes, put her in the spotlight. She did not turn up in court to answer the charges against her and KRA obtained a warrant of arrest. In court, her two daughters disowned their role in the company.
In documents filed before Justice Cecilia Githua, the petitioners Evelyn Nyambura Mungai and Njoki claimed that Wambui added them as directors of Purma while they were minors and without their consent.
Court records read that KRA was conducting tax evasion investigations on Purma. On June 17, 2021, it wrote to the three requiring them to appear before its investigators to assist them with information before June 28, 2021 failure to which they would be arrested and charged.
While arguing that they had nothing to do with their mother's firm and thus did not know about its operations, Nyambura and Njoki told the court that their mother was in Zambia and they had been left to pursue their respective lives.
Carry her own burden
"The second and third respondents (Nyambura and Njoki) had been put as minority shareholders and directors at incorporation of the company by the first applicant (Wambui), their mother, without their consent having been minors and in school.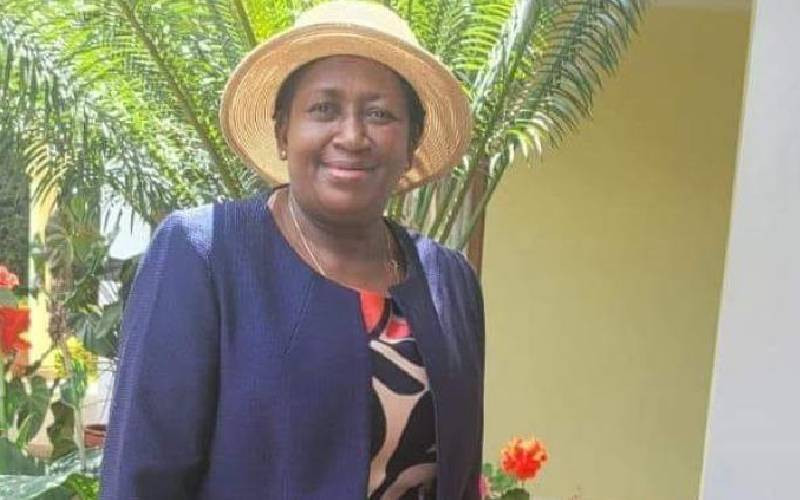 "On her own volition on having judged that the business did not rhyme with the daughters' desires and interests in life, she removed them from shareholding and directorship," their lawyer Walubengo Waningilo argued.
Nyambura and Njoki asked the court to give them anticipatory bail to prevent their arrest. They said KRA should wait for their mother to return "and carry her own burden".
Details about Purma Holdings
According to a company registration form filed in court, the firm was incorporated on February 13, 1996, with a nominal share capital of Sh1 million and share value of 10,000 per share. The form indicated that Wambui was the sole director and secretary, holding 1,000 shares.
Wambui then transferred 150 shares each to Nyambura and Njoki worth Sh30,000. A transfer of shares or stock document, which was also produced in court, showed that both girls and their mother signed acknowledging the same.
To prove that they parted ways with their mother, Nyambura and Njoki attached a letter written on August 28, 2019, by Njoki to her mother saying she had called it quits for personal reasons.
Njoki and her mother were eventually charged after she surrendered. They denied the charges. On Tuesday the DPP asked the court to end the trial. Wambui's lawyers, Adrian Kamotho and Nelson Havi, did not oppose.
Milimani Anti-Corruption Court Chief Magistrate Felix Kombo allowed the DPP's prayer to have the businesswoman let off the hook.
Related Topics