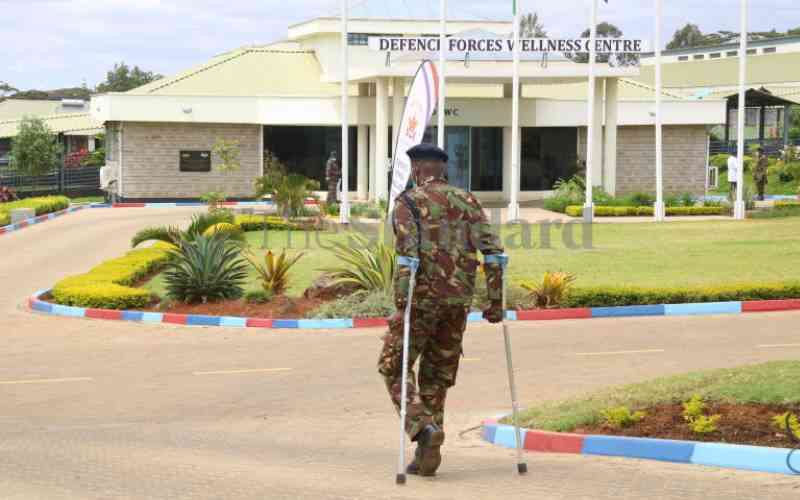 For over a decade, Kenyan soldiers have been fighting the militant al-Shabab group in Somalia alongside other member states of the African Union Mission in Somalia (Amisom).
The militant group's incursions had left the country and its citizens hurt and bleeding.
For example, the attack that was organised and executed by al-Shabab on Garissa University College, which left 148 dead, and Dusit Hotel in Nairobi, which left 21 dead.
As the gallant soldiers return home from the battlefields, they confront another war with themselves; the fight against mental health-related issues.
The Sunday Standard visited the Defence Forces Wellness Centre at the Langata Garrison, for the first time since it was launched. The military health facility with over 100-bed capacity was launched by President Uhuru Kenyatta in 2020.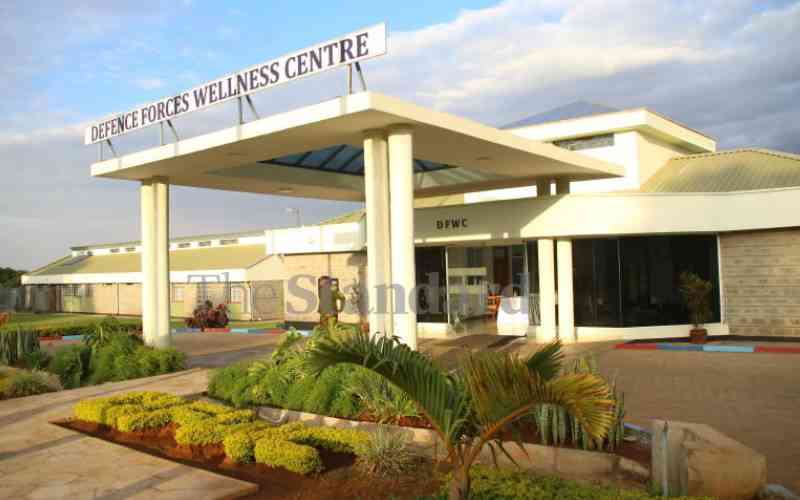 Lieutenant Colonel Obadia Yator took The Sunday Standard crew through a guarded tour of the facility.
From the outpatient section, Mental Health Unit, hearing, visual and orthopaedic department, the physiotherapy section all through to the occupational therapy department, the facility is a lifeline to gallant soldiers.
The beautiful landscape and green lawns with pathway edges marked with defence forces colours welcome you to the facility.
The tranquillity therein, Yator said, is meant to aid in the quick recovery of the soldiers.
Our first stop is at the Mental Health Unit where depression, bipolar, and post-traumatic stress disorder are managed.
At the reception, are indoor games that patients engage in to beat boredom.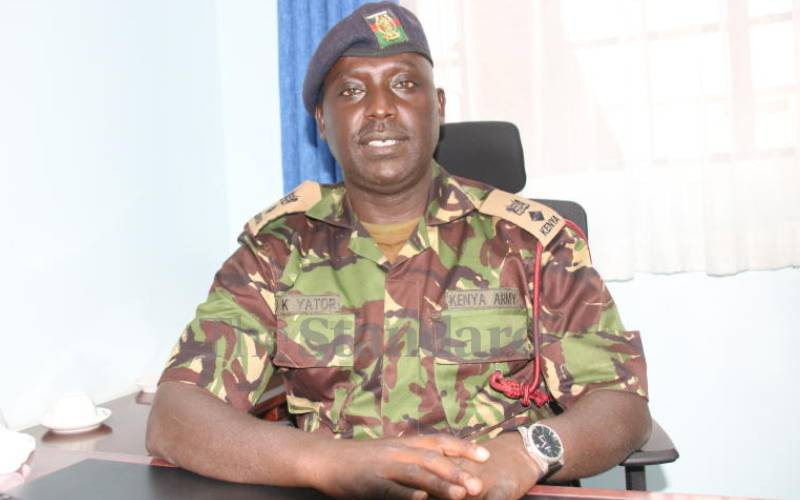 "When patients come here, we give them enough time, they can stay even for three months to six months until such a time when we feel they have recovered. We do integration with the families. While they are here, we invite the families where we have a group and couples therapy," explains Dr Yator.
The facility has a seclusion room commonly referred to as a strong room, calming room, or de-escalation room. The rooms are well padded to create an environment completely removed from outside distractions, hence facilitating deep relaxation or contemplation within a safe environment
"The patient can still communicate with the nurse at the reception while here, the walls are padded to ensure the patient doesn't harm himself or herself on the wall. There are CCTV cameras where the patients are monitored. This helps to moderate very aggressive patients," he says.
Outside the mental unit ward, there is a garden where patients can relax, play outdoor games, and bask in the sun. This is another way of aiding their recovery, Yator said.
"Group therapies can be done here. The surrounding has also been reinforced with metal rods and not a wall, this is to ensure the patients can see their surrounding. Even while out here, there is always a nurse watching them. From such normal surroundings, we can tell if a patient is ready to go back to society or normal duties," he added.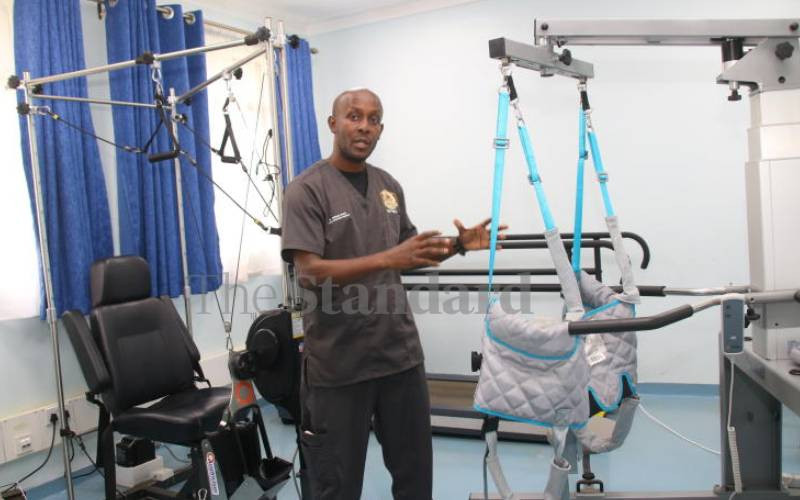 Yator dismissed claims that soldiers who confess to having mental distress are dismissed from the forces. "We use professionalism and maintain confidentiality. We reassure the patient that what we discuss remains between us before we start the session. And if there is anything to should share with their commanders' soldiers are informed first. But this is only for administrative help," Yator said.
The hospital has eight departments specifically built and equipped to address soldiers' needs. Yator explained that soldiers hurt while on duty, are recuperated and retrained and posted in stations where they fit.
Warrant Officer Class Two (WOII) James Kamau, an orthopaedic technologist, has perfected the art of making prosthetic limbs and orthotics appliances.
"We get referrals from consultants. We custom make those appliances for them, fabricate them for soldiers and their legal dependants," said Kamau, who is also the Head of Department Orthopedic Department DFWC.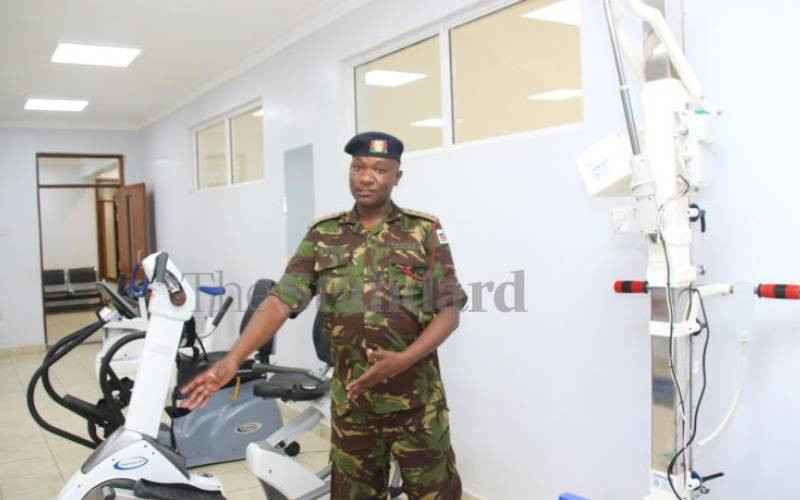 He said that having machinery and types of equipment to produce orthopaedic appliances has been a relief to the defence forces as most soldiers get assistive aids without delays.
Captain Eugene Makokha, a physiotherapist said they deal with injuries and patients recovering from neurological issues. "In physical rehabilitation, you might not retrieve former functions as it were, but we try to give our best so that the patient or soldier can go back to their duties," he said.
Yator says soldiers who are unable to go back to their normal function are compensated if they cannot be retrained for other posts. "When injured in the line of duty, an assessment is done, and compensation done. We have insurance, and facilities where we provide medical care even after retiring, even those who are still serving to get compensated," he said.
Yator said the hospital has set aside a family day every end month, where the sick get to freely interact with their loved ones.
Related Topics