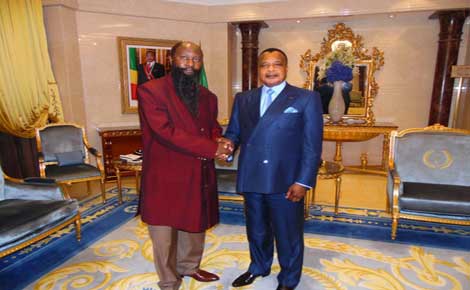 Congo president Denis Sassou Nguesso and Prophet Owour during his visit.
Aaron Alford is not a social lion. He is not an eminent figure or a renowned televangelist. In fact, I suspect this missionary's most prized possession in this world is his beard.
But his barb at pastors, besides rallying beard enthusiasts, is enlightening. "Hey 'fashion pastor,' gospel men don't wear spanx, we wear dignity, compassion, love, the armour of God and righteous beard." Now that is a moot sanctimonious stopper, and the men of God should consider themselves rebuked!
Seriously though, shouldn't our pastors and clergy be trendy and well put together? As a matter of fact, some church aisles are more or less runways to the pulpit. But being dandy, flashy and all 'blinged-up' may not necessarily make you well-dressed.
Pope Francis has proven that, to the point of validating Leonardo da Vinci's visionary reflection that simplicity is the ultimate form of sophistication. This beauty of the uncomplicated is what earned the Pope the unconventional recognition as the Best Dressed Man of 2013 by Esquire magazine.
His humility and modesty are not authored by showy red carpet appearances, but by doctrinal values that he clearly upholds dearly. He even shuns the opulent bright red shoes that caught the attention of many during the funeral of John Paul II who was buried with a pair on. His symbolic gesture of even paying his bills at a church-owned hotel is what Esquire so fittingly described as 'progressive orthodoxy.'
Perhaps this is what sets apart traditional denominations from the new-age assembly of revival, healing and prosperity ministries that tend to be self-named or family enterprises. Pastors in these 'modern, reformist and liberal' churches don't wear glorified dresses to the pulpit. Some are jazzy to the extent of sporting almost rapper-style pop attires, which betrays their character, since whatever we wear tends to express our persona.
GOLF CLUBS
A pastor who lives in a ritzy mansion in an upmarket neighbourhood is one who appreciates the finer things of life. This is someone likely to hangout in golf clubs and sport tasteful suits and à la mode shirts made of rich fabric. Pastor Julian Kyula of Purpose Centre Church is one of the niftiest dressers amongst the men of God. But this is not surprising for a man who a year ago graced the cover Forbes Africa for his successful, Africa-wide mobile phone finance business. As a well-travelled businessman, described as disruptive by nature, his snappy dressing is almost predictable. His fitted suits are à la Joel Osteen's favourite blues, including a lean frame to boot. In church, he prefers a suit with a knee-length coat that makes him a more dapper version of Prophet Dr David Owuor.
TRYING TOO HARD
Most of the female evangelical pastors like Teresia Wairimu and Bishop Margaret Wanjiru are rather prudish and wear what may pass as conservative without grabbing much attention. Most. But not Kathy Kiuna. She is by far the most outgoing female pastor with a wardrobe as catholic as his congregation, ranging from screaming colourful frocks, formal suits, bog-standard clothes, even bland wear, to sexy and chic outfits. Now that's elegant, because fashion to her seems to be but an accessory. She won't even shy from giving a hint of cleavage. Her affable and bubbly mannerism is the yin that completes the yang of her rather reserved husband, who even in a bandanna and astride a Harley Davidson still looks like he is trying too hard.
GARDEN OF EDEN
What sours Sunday fashion on the pulpit is the showmanship, which has seen some pastors putting on 'performance costumes' like Kanyari's askari look or shimmering gowns that some clergy prefer. It makes attending a Sunday service like being in a concert, with a smooth emcee marketing a promo on how to panda mbegu. This is particularly so when you have to sit through sermon by a glib and extemporaneous pastor with a thrilling message delivered in a rhythmic tempo and a rather croaky tone.
But the big question is, does God really care? Would John the Baptist had won more souls if his coiffure didn't look like a bird's nest and he enjoyed fine dining rather than his staple of grasshoppers in the wilderness? You decide. God placed man naked in the Garden of Eden, and that, perhaps, is the best fashion statement we can ever make. Simplicity.
TWITTER: @omondipaul
Related Topics