Home
/
Lady Speak
I love birthdays but I don't want to grow old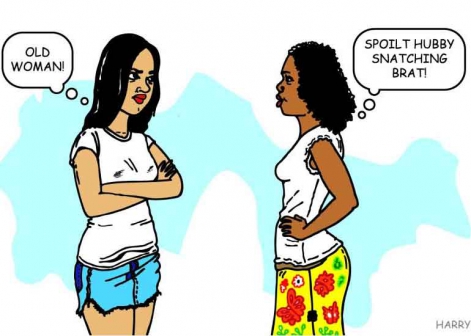 Everyone gets to that age they dread the most.
While some would dread old age because they fear being dumped in some remote area after a lifetime in the city, I dread old age not because of the wrinkles but because of the tug of war I would be in with the younger sexy women in pursuit of my man.
This is the man who took away my innocence... the man I spent my thirties moulding and grooming. Okay, I lied. Someone else took away my innocence in my twenties.
Don't give me that evil look now, I deserve a medal for carrying my innocence into my twenties. The current generation drops it off as soon as they realise they have it, probably in their teens.
So now let me tell you about my fear of hitting fifty.
I am in my thirties and I can already feel the heat from those around me. I have seen women in their fifties spend their lunch hours at work staring into space as they turn and twist in their seats.
The women are always hungry for information about one thing or the other. If they are not thinking of how to confront the other woman, they are thinking of how to become the other woman.
They stare into space until a younger sexy female colleague announces her arrival by the sound of her heels bringing them back to reality.
They will then change their sitting positions, make faces, widen their noses as if gasping for oxygen, look the opposite direction, roll their eyes and let out a sigh of relief just about the time the other beauty is disappearing.
They would then gently start tapping the table while their gaze is fixed on the wall clock as they pray that their shifts come to an end. In short, women in their fifties cannot stand the younger generation at work. I would hate to be in their shoes.
Then comes those who are always fighting hard to fit in the current world full of technology. Joining every social media site either with the aim of outdoing or stalking the other woman. This is actually the lot that scares the hell out of me anytime a year goes by and I realise I am getting older.
Their men have turned them into private investigators.
Unlike women who become more motherly with age, men become teenagers and behave like boys. Always trying to impress women, only this time they aim lower at those sexy ladies who interrupt their wives' thoughts at work with their heels. This makes women in their fifties concentrate more on building their homes while men of the same age work on destroying the very homes.
Sometimes I envy the women who married to those men who narrowly escape the midlife crisis. At least by doing so, they give their wives ample time to enjoy their fifties at peace.
This is the lot that does not even understand how social media works and always has old scanned passport photos as profile pictures. Next time you see a profile with such a picture and less activity, know that the couple is having a time of their lives.
On the contrary, if you see a fifty year-old who is extremely active on social media, kneel down and say a prayer for the couple because there is fire in the mountain.
As much as I would wish to celebrate more birthdays, sometimes I really wish thirties had more years than just ten. I see depression staring at me and it all revolves around men. I will either be out there trying to keep one or to get one.
Sometimes I wish I were a man so that I get to eat my cake and have it all together. But I am a woman, so I will just sit here and wait for my time to spend my lunch hours gazing into pace and sneering at people who don't even matter.
Related Topics