Home
/
Interior décor
How to brighten up your kitchen with classy dishcloths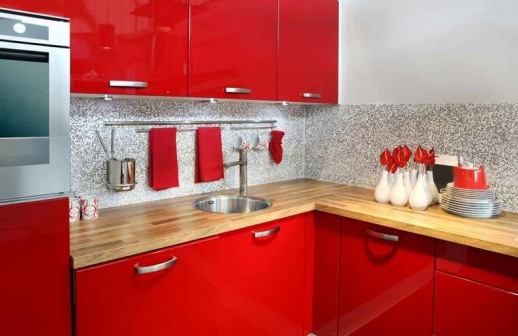 Kitchen towels and dishcloths are usually a good gauge of the state of your kitchen. Sparkling clean dishcloths reflect a hygienic food preparation area while dirty soiled ones will make a visitor cringe.
Used for cleaning spills, wiping sink areas or drying dishes, dishcloths end up doing plenty of your dirty work in the kitchen and can sometimes be used to hold the edge of a cooking pot.
While dishcloths are usually made from cotton-absorbent materials, kitchen towels are made from a more fluffy fabric to dry your hands after handling water.
Some kitchen cloths are too cute for use. I especially like those with coffee beans or a cup of sumptuous-looking espresso coffee or those with fresh looking citrus fruits or melons. If your dishcloth is too cute, consider framing it for use as wall décor in a kitchen or dining wall.
Other brilliant uses include using it to line a tea tray or even making a kitchen curtain from it.
QUICK AND AFFORDABLE
Dishcloths are a quick and affordable way to inject a pop of color into your kitchen, especially if it is for a short-term stay like when you are living in an apartment for three to six months and you do not want to invest a lot on décor.
Create a theme and use the towels to reinforce your accent color in the kitchen. It should preferably be a color that contrasts the background wall color so that it serves as a functional accessory.
Find cloths in vibrant colors that add a spark to an otherwise dull monochromatic kitchen.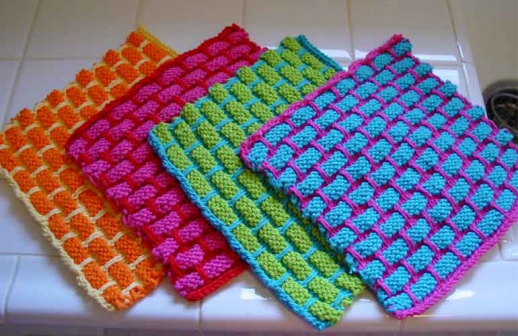 Colorful dishcloths and towels are easily available and affordable from street vendors. Other kitchen towels come in a pretty pear shape and exciting neon colors, with a hook to hang on a rack.
If you are gifted in stitching, it is easy to make dishcloths and embroider and border the edges with the exact hue of your kitchen accent color.
For ease of accessibility, hang them in a conspicuous part of the kitchen together with matching pot holders.
You can even make them as giveaway gifts for a friend and add your artistry flair by patching fruits such as apples and melon onto the dishcloth.
There is nothing as repulsive as a dirty smelly dishcloth. Keep your dishcloths sparkling clean by soaking them in detergent overnight.
If heavily soiled, you could include a disinfectant in the solution so as to sterilize them or simply add a teaspoon of salt in the detergent solution, especially if you have used them to wipe liquid substances from meats such as beef or chicken.
Find a clean drawer to store the washed dishcloths and if possible, iron them so they look clean and crisp until you have to use them again as the cleaning cycle continues.
Related Topics