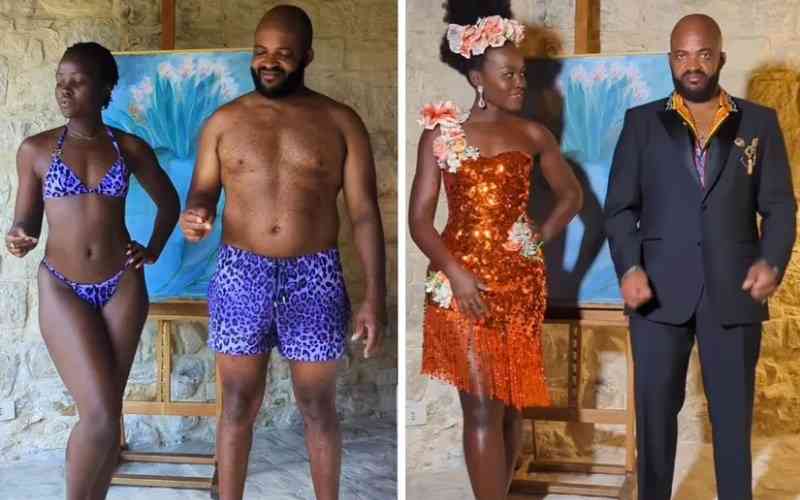 Kenyan actress Lupita Nyong'o on Friday introduced her boyfriend to the world through a cute video on Instagram.
The lucky man is TV host and sports commentator Selema Masekela.
In the video, set to the song The King's Affirmation, the couple was snapping along while changing into various outfits, from swimwear to formal attire.
"We just click!" wrote Lupita. Selema also put up a post describing the award-winning actress as his 'whole and actual love."
So, who is Selema Masekela? Well, I am sure his surname sounds familiar and yes you are right. He is the son of a Haitian mother and South African jazz maestro Hughe Masekela.
Having travelled the world with his father during his younger days, he immersed himself in music and is the brains behind the Alekesam band, together with Sunny Levine.
Selema or Sal as many call him, started out as an intern at Transworld Publications in 1992 and was an NBA sideline reporter for ESPN between 2003 and 2004.
He is also involved in various mentorship programmes back home in South Africa and runs a non-profit organization that provides meals to students of township schools in Soweto.
Sal, 51, wears many hats. Apart from sports commentary and TV shows, he is also an actor, having featured in 2015's Point Break, 2018's Uncle Drew and an episode of Sneakerheads in 2020.
Sal seeks advice on Twitter after meeting Lupita on a flight
It seems Sal was smitten the moment he laid his eyes on Lupita. I mean, who would resist that? Lupita oozes class!
In 2016, the actor took to Twitter to ask for advice on how to approach the star.
"Hypothetically speaking of course, let's say you're seated behind Lupita Nyong'o on an airplane, what would be your opening line?" he asked.
Adding: "Anyone comes up with a good opener for me with Lupita, send em. Cause I'm really sitting right behind her in this flight."
It must have taken quite a witty line to get the attention of Lupita, who is the daughter of a professor. Either way, his charm must have worked.
Lesson of the day, shoot your shot!
View this post on Instagram
A post shared by Lupita Nyong'o (@lupitanyongo)
Related Topics