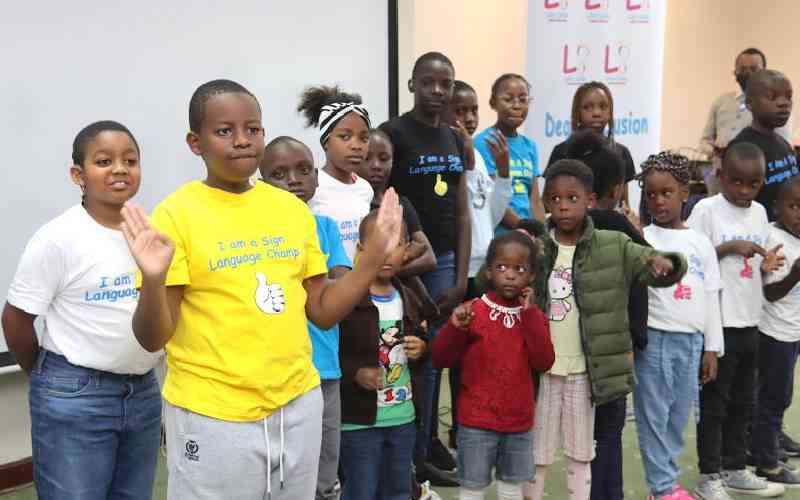 In Kenya, like most other places around the world, people don't ordinarily think to check whether their baby can hear or not.
Deafness is the last thing a parent thinks about when they have a newborn. It only enters a parent's radar when they notice their child is not talking past what is typically considered a comfortable delayed stage. That generally is between the ages of two and three years old.
It was a massive surprise to Grace Wanjala, mother to a 10-year-old deaf girl, and Lawrence Gichuru, father to a 13-year-old deaf boy, when they discovered their children were deaf. They added to the 95 per cent of deaf children who, according to statistics, are born to hearing parents and so lack access to proper sign language socialisation until they join a deaf school.
This week, the world celebrated the International Week of Deaf People, and those were some of the challenges highlighted. This year's theme is 'Building an InclusiveCommunity For All'. Deaf people and champions for the deaf across the country met on Thursday to mark the milestones achieved, discuss challenges they face in the education, economic, social and political spaces, and chart a way forward.
Deaf children showcased their abilities and talents and taught hearing people how to relate to them respectfully. For instance, they asked people not to tap them hard to get their attention, as a slight tap still does the job. They also asked people to avoid passing through or distracting deaf people conversing.
"Deaf people need eye contact and concentration to pass or receive a message," signed 10-year-old Marlene.
Champions of deaf children urged society to embrace people living with disabilities and allow them an enabling environment that will warrant them to reach their full potential.
"People with disabilities do not want pity, hugs, and much ado about nothing," said Nancy Nyambura, CEO of Lugha Ishara, a social innovation powerhouse working at the nexus of education, disability inclusion, and technology for Deaf children and families.
"They are some of the most talented people. They just need an enabling environment that allows them to express themselves and develop as much as any human being wishes to," she said.
Grace and Lawrence were among the parents who shared their tales of bringing up deaf children.
"It was hard to accept that my child was deaf. In a way I am still in denial. But I found a community of parents with deaf children, and I felt accepted. I now have people I can share the joys, and the challenges of bringing up a deaf child," Grace said.
She was in so much denial she took her child to a 'normal' school, only to learn that the teacher sat her behind the classroom for not participating in class activities.
"I still felt there was something I could do to make her hear. I still felt the need to give it more time, and maybe she would start hearing," Grace narrated.
However, she witnessed a decline in her daughter's academic and social progress, and soon realised the need to accept the situation and find her a deaf school. Lawrence cannot pinpoint the exact point he realised his son was deaf. He had long observed that his son rarely responded to the sounds of the door opening or when someone called his name.
"I was not sure what it was, until a visitor came and told us to take Keith for an auditory assessment, then we found out that he was profoundly deaf," said Lawrence.
Like Grace, Lawrence decries the lack and inaccessibility of enough schools for the deaf.
"It is so unfair that parents have to send their children to boarding schools because there are few schools for the deaf," said Lawrence.
"I live in Buruburu and have to organise for my child's transport, to and from Agha Khan Primary School," said Grace.
Related Topics