Borrowed clothes saved the day for newly crowned Miss Deaf beauty Lilian Shihundu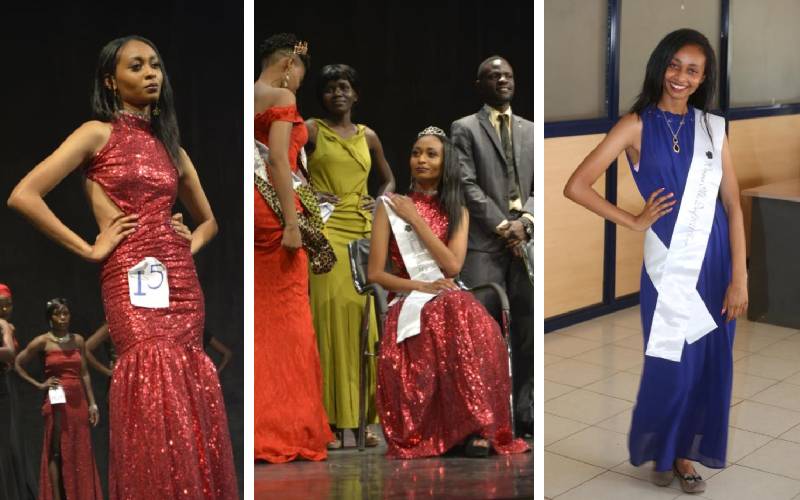 When she was signaled the winner of the national Miss Deaf contest held at the Kenya Cultural Centre in Nairobi on September 8, nobody would have guessed that she had just cat-walked in borrowed attire to bag the crown.
The bubbly 23-year-old Lilian Shihundu was happy but deep inside troubled.
"I feared that should I fail to return the clothes in time, my good friend would get annoyed with me. I was just thinking how I will rush home to Kakamega, clean them (clothes) and hand them back to her," she says through an interpreter.
She went on: "Honrine Obote is my childhood friend and one of my biggest supporters. I wouldn't want to hurt her in any way. Our friendship goes back our primary school days."
It is at Obote's home that the Food and Beverages diploma student spends lots of time practicing for all upcoming beauty pageantry and of course, gets the compliments from the girls who spur her on.
When not at her friend's house she is watching international beauty pageantry competitions, jogging or reading books on fashion, designs and lifestyle at her Amalemba Estate home.
The beauty discloses that doesn't eats French fries; she bites a few slices of ugali with lots of vegetables and water to check on her waist and body mass.
What is more, she is single and in no rush to get into a relationship.
"Men have been hitting on me ever since I bagged the 2020 crown. They came in droves on my Facebook and Twitter inboxes this month when I retained the crown but I have been humbly telling them off, one after another," she says with a shy smile. "I want to build my career to be a reputable professional model then relationships will follow."
She has not had much professional training in modelling but informs us that she developed a keen interest in it while at Mumias St Angela School for the Deaf.
"I have a trainer in the Nairobi called Bruce Makau who has been instrumental at sharpening my skills, especially weeks to major beauty events. He is the man behind my success," says Shihundu.
Last year she was scheduled to participate in a deaf pageantry in India but she tells us that had no money even to hire a taxi to the airport, and that is how the chance slipped away.
She will now represent the deaf beauties in the Miss and Mister Deaf Africa to be held in Tanzania between September, 26 and October 1.
"I don't want to imagine missing out on this chance like it happened last year," she says with teary eyes. "I need clothes, shoes, perfumes, make-up and all that a girl needs to bring the African crown home."
In the invitation list to the continental modelling contest, the beauties are expected to carry five sets of clothes and shoes to showcase for dinner, introduction, interview, culture and gala outings.
They also need to carry swimming trunks, black leggings and casual wear besides paying some Sh100,000 to cater for meals, transportation and accommodation in Tanzania.
"I look at the amount and the requirements and feel overwhelmed. I don't have any source of income. My mother is a widow and as much as she may want to help me she is not in a position to," she says.
If she succeeds in her dreams to reach the continental platform she hopes to tap into the opportunity to build her modeling career and become a good-will ambassador to pupils and students in deaf schools on menstrual hygiene and self-esteem.
"I am sure to meet many people and organisations and will try convincing them to fund me to run a sanitary distribution drive in schools for the deaf and disabled. I have been there and can relate to the pain deaf and disabled learners get during their monthly cycles," she says.