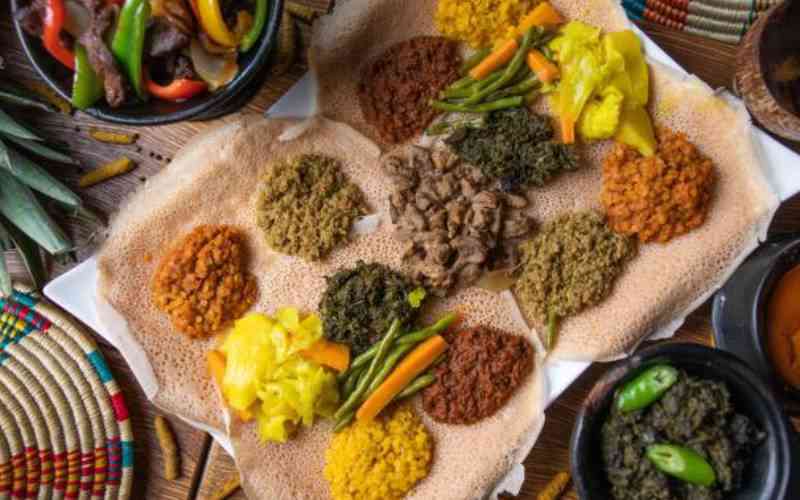 Different communities are associated with different staple foods and injera, also known as anjera, is a beloved staple in the cuisine of Ethiopia and Eritrea.
It is believed to have originated over a thousand years ago in the Horn of Africa, making it one of the oldest breads in the world.
The bread is popularly known for its unique spongy texture, which is a result of the fermentation process. The air bubbles created during fermentation give it this characteristic.
It symbolizes togetherness and the sharing of meals, reinforcing the communal nature of East African dining since it is often used as a communal plate on which various stews, vegetables, and other dishes are served.
Here in Kenya, it is a delicacy mainly served in Somali restaurants. Some will agree that it is a delicacy while others disagree due to it sour taste.
It is easy to make bread and today we will learn how to do it at home.
Ingredients:
1 cup teff flour
1 cup of wheat flour
1 1/2 cups water
1/4 teaspoon salt (optional)
Cooking oil for greasing the pan
Instructions:
In a bowl, combine ingredients and add water. Stir well to create a smooth batter. Add salt if desired.
Cover the bowl with a cloth secured with a rubber band and let it sit at room temperature for the next 1-3 to ferment.
Remove the cloth and if you can see small bubbles rising to the top, the batter is ready to use. Heat a non-stick skillet or injera pan over medium-high heat. Lightly grease the pan with cooking oil.
Pour a ladleful of the batter onto the hot pan, swirling it to spread evenly. Cover with a lid and cook for 30 seconds, or until the edges start to lift and the injera is firm.
Without flipping the injera wait for the raw white batter on top to cook. Gently remove the cooked injera from the pan and place it on a plate.
Continue with the remaining batter. Injera is traditionally served with a variety of stews, vegetables, and dips. Enjoy!
Related Topics