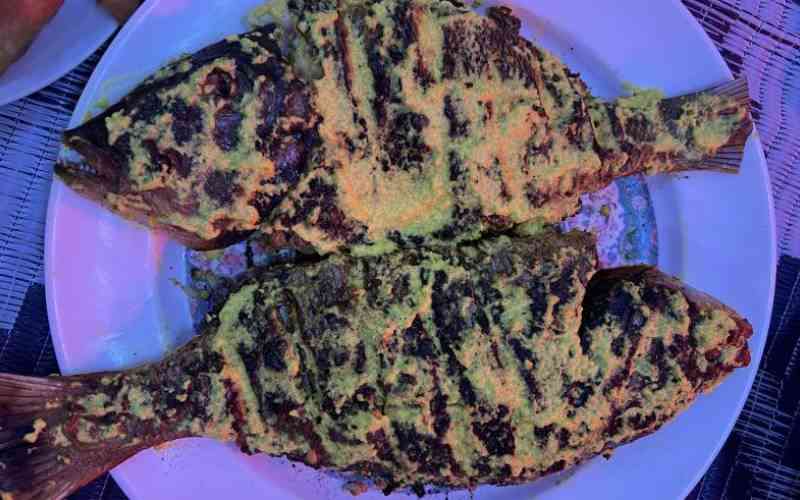 Today we make Swahili char-grilled coconut fish, also known as samaki wa kupaka.
Ingredients:
1kg whole fish
3 lime, halved and squeezed
Salt to taste
1 teaspoon garlic ginger paste
1/2 teaspoon turmeric powder
1/2 teaspoon cayenne pepper
Method:
Marinate the fish with the above ingredients.
Once done, place over a fish grilling wire basket, then grill the fish (for about 8-10 minutes) over charcoal until cooked. (When cooked it should have a golden brown colour).
For the sauce
1 onion, sliced
350ml heavy coconut cream
1/2 teaspoon curry powder
1/4 teaspoon turmeric powder
1/2 teaspoon garlic ginger paste
Salt to taste
1 teaspoon vegetable oil
1/4 cup tamarind extract (optional)
Method:
In a pot over medium heat drizzle the oil in a pan and add the onions. Sauté the onions until soft, then add the garlic ginger paste.
Now add turmeric powder and curry powder. Mix well. Add the coconut cream and simmer, then add the tamarind extract. Stir well.
Add the salt and cook until the sauce is thick. Pour the sauce onto the fish evenly on both sides, while the fish is on the charcoal grill.
This will help smoke the fish further, and make it more flavourful. Serve with curried potatoes, coconut rice or chapatis. Enjoy!
Related Topics