Home
/
How to kick your metabolism into high gear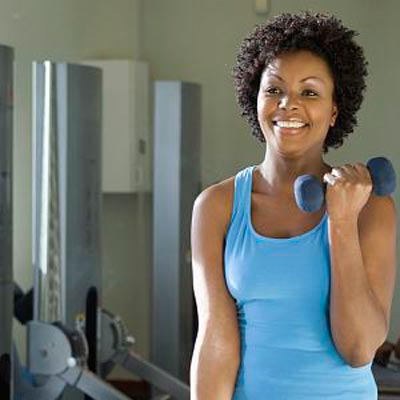 Are you giving 110 per cent in the gym, doing cardio, eating clean, yet you're still a bit soft in the middle? Many people don't know that getting lean is doing a bunch of little things in the right way.
Here are a few tips:
DO HIGH INTENSITY INTERVAL TRAINING CARDIO (HIIT): Shorter, high-intensity cardio sessions result in greater fat loss over time than low-intensity sessions. Research has also shown that high-intensity training is more muscle-sparing than low-intensity cardio.
Therefore, it is highly recommended to do HIIT for all cardio and to keep your sessions 20 to 30 minutes long. Here's how it works:
1. Start your workout with two to three minutes of low-intensity warm up.
2. Then go all-out, as fast as possible, for 30 to 60 seconds (if you're new to HIIT, 30-second intervals will be plenty, but you want to try to work towards being able to do 60-second intervals).
3. Slow it down to a low-intensity recovery period for the same time as your high-intensity interval. Again, if you're new to HIIT, you may need to extend this rest period to one and half to two times as long as your high-intensity interval. If you're still out of breath, you're not ready to hit the high-intensity again.
4. Repeat this cycle of all-out and recovery intervals for 20to 30 minutes.
5. Do a two to three minute cool-down at a low intensity.
You can apply the HIIT style to any type of cardio. You can head outside and walk and sprint or you can hop on the elliptical trainer or recumbent bike to get it done.
LIFT HEAVY WEIGHTS: Hit the weights if you want to jack up your metabolic rate and speed up your fat loss.
And if you want to score extra points, focus on compound lifts like squats and deadlifts, because they burn the most post-workout calories.
AVOID CONSECUTIVE DAYS OF REST: Doing no exercise for two days in a row can slow down your metabolic rate. Instead of training for five or six days straight and then taking two days rest, train three or four days and then take a day off, followed by another three to four days of training.
SPLIT UP YOUR WEIGHT TRAINING AND CARDIO: Instead of lifting for an hour or so followed by 30 minutes of cardio, split them up. Lift in the mornings and do your cardio after work, or vice versa. Not only will this rev up your metabolic rate twice per day, it can also help preserve muscle.
DON'T DRINK YOUR CALORIES: Liquid calories are a disaster when you are cutting. They are way too easy to consume even when you don't have an appetite. They also don't fill you up and most of them are full of sugar, which keeps your insulin spiked (which in turn leads to more fat storage).
Instead of drinking juice, sodas, sugary teas or coffee drinks, stick to water, plain tea (or sweeten it with a natural sweetener) black coffee, or other no-calorie beverages.
SUMMARY
If you are planning on losing weight or are struggling with it, try incorporating each of the tips above. As long as your diet is right, your body can't help it but melt the fat away.
Related Topics