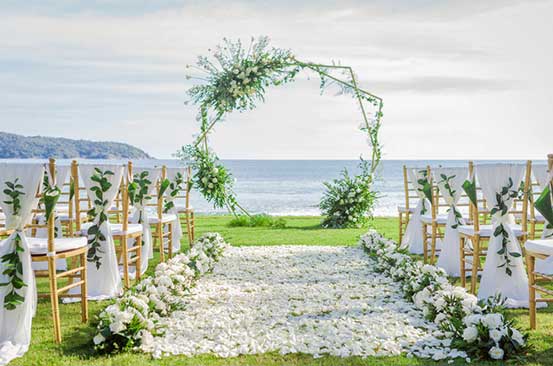 Growing up, I always envisioned my wedding. I knew exactly how it was going to be. From the colour theme, the number of guests and even the groom. Mine wasn't the usual tall, dark and handsome. My dream man was just well built... I don't remember wanting him tall or dark, just strong enough to sweep me off the ground.
When I was 10, I attended a wedding where the bride was 28. From then on, I vowed to get married and have my wedding at 28. In fact, during my days in college, I always told the men who hit on me that I wanted to get married at 28. There was this fine young man who had fallen in love with me but when I told him about getting married at 28, he literally took off claiming that was too soon for him. Initially, I couldn't stop wondering why he thought it was too soon yet, to me, it looked just okay. Looking back now, I believe it was truly too soon for him because just like me, he is still single and searching. Okay, I am not sure about the searching bit but I am sure he is still single.
The first time I attempted to plan my wedding was when I was about to turn 28. True to my wish, I had a stable man who, at the time, wanted to share his life with me. I remember calling the service providers to plan the whole occasion. In my mind, as the days went by, all I could think of was how much I would dance during the wedding reception. I even signed us up for dance classes because I wanted both of us to give our best during the reception. At least my dream was beginning to come true!
Unlike most brides, my dream gown wasn't white and it wasn't made of any lace. Mine was a brown African gown made of 'kitenge' and it had a really long veil. It had the ball gown design and was puffed enough to my liking. Only God knows how much I planned for this day.
As usual, the younger version of me wasn't mature enough to accept and work on the few mistakes our men make. So the day I realised he had said the magical words 'I love you' to another woman, I walked out without a single thought. Not even an apology could change my mind at that time. To me, that chapter was closed; and it has remained closed to date. There could have been a little regrets here and there as the years went by but trust me, I have outgrown the regrets. That was the first ever wedding I planned for myself and it backfired on me two months to the D-day.
Four years later, I was at it again. Another man promised me heaven and I believed him. He told me his dream wedding was at the beach, dressed in white linen attire with the evening wind blowing and jazz music playing in the background. He convinced me that a beach wedding is the best wedding so I shifted my dream wedding away from a garden wedding. I started imagining myself on a beach. I even fell in love with white linen attire and bought quite a number in preparation for my wedding with this man. Let's just say we never even got to the introduction stage to our parents. This man is the greatest of all scams. There was never any love!
The last time I ever attempted to plan my wedding was with my baby's father. This was going to be a yellow-themed wedding because that's my favourite colour. I still do have photos of my yellow wedding gown design. His suit was a shade of yellow with some black here and there, it looked really cute on him considering he was the proverbial tall, dark and handsome man. Again, it did not happen! The plans did not even kick off, they were dead on arrival. Turns out he wasn't even ready to be a father!
READ MORE
Now a friend recently asked me to stop dreaming of weddings because of those three past experiences. I don't know why this friend thinks those experiences broke me. They didn't! If anything, I now have an even bigger and better picture of what my wedding will look like. Yellow will remain the theme, the number of guests will be unlimited and food will be in abundance. There is no way I am giving up on this dream. You too shouldn't give up on any of your dreams because of your past. I hereby welcome you in advance to my wedding which will take place the day it will.