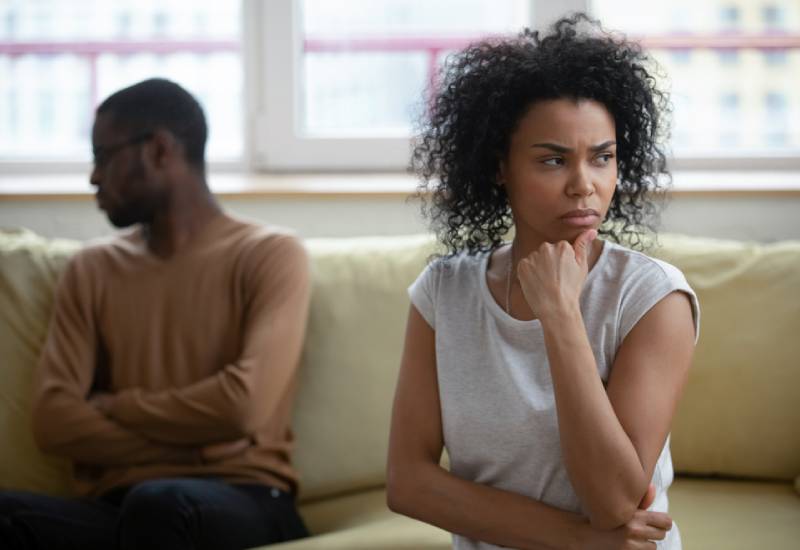 Hello,
My husband and I have been married for 13 years now but things have changed and are getting worse by the day. He is moody all the time and nothing I do is ever good enough for him.
In fact, he doesn't see anything good about me. I try my best to be a good wife including spoiling him with the things he likes, but he has turned cold on me.
I think our marriage is dead but there is so much keeping us together including the children, a mortgage and we have the same friends.
This marriage is making me miserable to the point that I dread going home. We work just about the same hours but he complains about everything.
I am sad and lonely and don't know if this is what I really deserve. I have done my best to be a good wife. Please advise me.
What the readers say:
READ MORE
It is possible you could not even be the source of the emotional backlash; you are just the weaker object onto which he is projecting his frustrations.
That's why the more you try to please him, the more difficult he gets because you come out as a parody of the frustrations. To manage such emotions, be absent while present.
Do your part well, without necessarily going overboard and just stop there. Be present without getting into his emotions. If your work allows for a transfer so that you reduce the amount of contact time, exploit so that he begins to clearly see the gap created by your being away.
In that you will repair your emotional imbalance as you cleverly bring him into wanting to talk to you by complaining. When such a chance comes, politely make him know your emotions and the unfairness in his actions. Be patient and calm through all these.
Mugure, 13 years is indeed a long journey. Things haven't reached a dead end. Time is a good healer. You have mentioned how hard you have strived to restore your marriage.
I am only left to wonder these things you consider a good wife does, activities you think through as spoiling him. Can you trace back where all these began? Can you remember where his mood swings started and how?
His mood swings may be from a factor within or outside. You may consider getting facts right from him. That duration approximates to children, one or more at least 13 years, this comes with heavy bills and a greater responsibility that could be weighing down his moods.
Have an open discussion with him and listen to him objectively otherwise it could be some other things that you could not be the reason.
Boke says:
Yes Mugure, you deserve better than this.
You truly have a heart of gold, looking at all the effort you are putting in to hold your family together. This shows your commitment to this relationship.
However, it takes two to tango. This means no amount of one-sided intervention will save or solve the situation.
Your husband seems to be going through something. This may have nothing to do with you but himself, so do not even try to accuse yourself of anything. If you can, try to find out what could be happening at his place of work. While relationship issues affect women, men on the other hand are greatly affected by matters touching on their work.
Although I had mentioned that you do need not be guilty I still implore you to encourage him to speak out. You need to give him a listening ear. It should not surprise you that his unkind actions could be a cry for attention. Enough of doing this and doing that, start being. Be a companion to him.
There is a high likelihood that he could be going through midlife crisis and this is igniting excessive self-criticism. At this point, you could also see a counsellor who would competently rule out any mental health problems.
In case all this does not work then just know he is deliberately pushing you away for reasons best known to him. In such a situation, I will leave that for you to decide on your course of action.
Hilda Boke Mahare has a background in Counselling Psychology