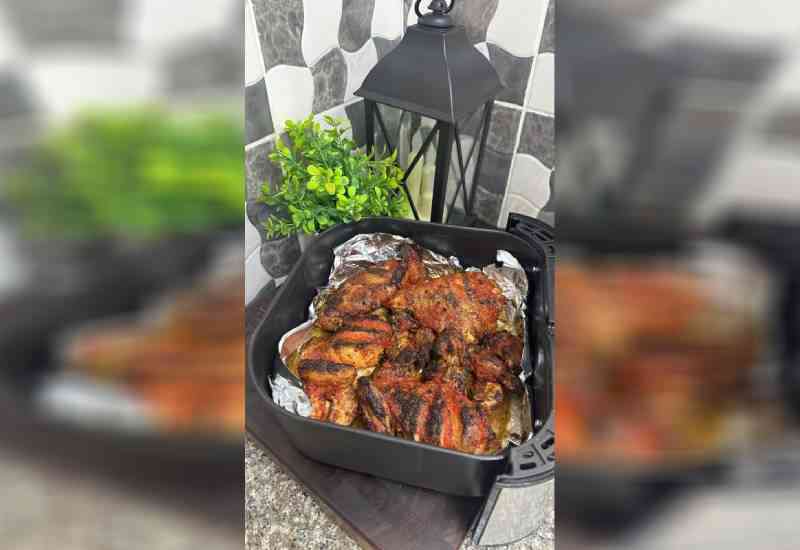 Today we make air fried chooza chicken breasts.
Ingredients:
4 chicken breasts (scored)
2 tablespoons powdered ginger
2 tablespoons blended garlic
1 tablespoon blended green chilli
1 teaspoon white pepper
2 teaspoons salt
1 teaspoon garam masala
1 teaspoon dhania jera
1/2 teaspoon turmeric powder
1 teaspoon citric powder
1 teaspoon soda bicarbonate
1 teaspoon red chilli (can be altered to suit your needs)
1/2 cup vegetable oil
1/2 cup white vinegar
1/4 teaspoon red food colouring
1/4 teaspoon egg yellow food colouring
Salt to taste
Method:
Put all the ingredients (except the chicken breasts) in a blender.
Blend until smooth.
Clean the chicken and pour half of the marinade over the chicken. Let the chicken marinate for about eight hours in a fridge or chiller.
Now place the chicken in an air frier at 190°C for 25 minutes.
Open the air frier after about 15 minutes, turn the chicken and continue to cook.
As the chicken cooks place half of the marinade in a saucepan and cook at medium heat for five to six minutes or until the mixture reduces.
Pour the cooked marinade over the chicken and you are ready to serve. Enjoy with chips, ugali.
Tip: I like to line my air frier basket with foil paper before placing the chicken to make it easier to clean and also will help further cook the bottom part of the chicken
Related Topics