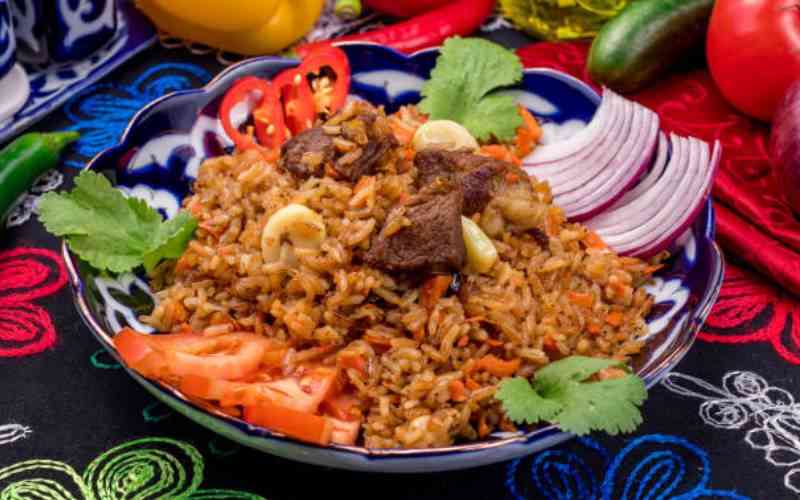 Kenyans call it pilau while the westerners call it pilaf. Regardless, it is a dish that draws its origin from Asia but for us here in Kenya and East Africa, it is one of the most revered Swahili dishes.
It is just not one of your common rice recipes because a lot comes into play during its preparation.
Talk about the spices, the ingredients involved, the aroma and the taste… it's sensational. A Swahili friend once said that the secret to the brown colour and good taste lies in the onions.
Many Kenyans prefer pairing pilau with kachumbari, a mixture of diced onions, tomatoes and coriander. It can be prepared with either beef or chicken.
Ingredients:
½ kilogram of beef
2 cups of rice
5 red onions
A piece of ginger
3 bay leaves
3 tablespoons of tomato paste
Ground cardamom
Ground cinnamon
Ground cloves
Ground cumin
Water
Salt
Cooking oil
Instructions:
Wash and salt the beef to taste. Apply garlic paste, ginger paste and black pepper.
Put the marinated beef into a cooking pot, add water and bay leaves then boil it for about 20 minutes. Wash the rice several times until the water runs clear.
In another cooking pot, heat the oil and add the sliced onions. Sauté the onions till they are caramelized and turning golden brown.
Add ginger and garlic paste to the onions and cook till they brown. Add the ground spices and stir.
Add the dry boiled beef and stir while adding tomato paste and mix well for about 3 minutes. Measure and add four cups of water to the pot and bring to a boil.
Add the rice into the pot, cover and allow it to cook till the moisture has been absorbed.
Related Topics