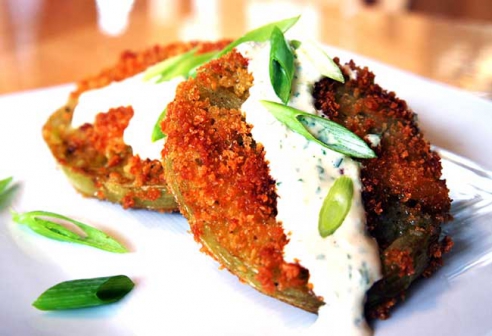 Fried green tomatoes are a side dish usually found in the Southern United States, made from unripe tomatoes coated with cornmeal and fried (and made famous by a 1991 movie by the same name). Shallow fry the tomatoes as tomatoes do not float in oil.
Serves 4
Prep Time: 5 minutes
Cook Time: 20 minutes
Ready in: 25 minutes
Ingredients:
230g / ½ cup all-purpose flour
READ MORE
3 eggs, beaten
230g / ½ cup yellow cornmeal
4-5 large green tomatoes, sliced ½ inch thick
Vegetable oil, for shallow frying
Salt to taste
Directions:
Place the flour, eggs, and cornmeal in three separate shallow bowls.
Dip the tomatoes first in the flour, then the eggs (letting any excess drip off), and finally in the cornmeal, pressing gently to help it adhere.
Heat the oil in a large deep pan over medium-high heat.
In batches, fry the tomatoes until golden, 1-2 minutes per side.
Transfer onto a platter lined with kitchen paper or serviette.
Season with salt before serving.