Home
/
How to detox after overindulging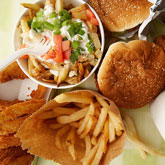 How did you do in the month of December with looking after yourself? Like most of us, you probably made a few indiscretions here and there.
Eating what we know we should not eat, abandoning our fitness routine, not wearing enough sunscreen and partying perhaps a little too hard.
Your skin tends to be a window revealing your overall health and unfortunately January tends to find our windows looking a little murky. And since time moves in only one direction, this January will not find us as young as previous years.
Thankfully, you can reverse the effects of careless festive practices. Here are seven easy tips for rapid damage control.
Drink like a fish Water is a solvent – it dissolves toxins and helps expel them from your system. Drink more water.
Start first thing in the morning, and make it lemon water for added benefits. Carry a cute bottle with slices of your favourite fruits and leaves.
Drink water before your meals for added satiety and to rev up your digestive system. Stop drinking by 7 pm so as not to interfere with your beauty sleep.
Catch up on your rest January is a crazy busy month trying to hustle but you need to make time to rest.
Reduce the amount of recreation on your weekends and evenings so you can catch some extra shut-eye. Where possible, sneak in power-napping – it can work wonders for chronic sleep deprivation.
Switch off your laptop by 8 pm and practice good sleep hygiene to get your body primed for a good night's rest.
Try body brushing It is not as complex as it sounds. Invest in a body brush or in those traditional loofah sponges you see being sold out there.
Before jumping in the shower, dry brush your skin vigorously to loosen the dead skin cells and boost circulation. Then wash off the gunk. Repeat daily for glowing results.
Juice to reboot your system Juicing is one of the most effective detox methods on the planet. This is because the live enzymes contained in freshly-squeezed vegetable and fruit juices are powerful cleansing and anti-blockage agents.
The key is to go easy on the fruits to avoid overloading on sugar, and try to drink the juice within minutes of making it.
Enzymes tend to lose their effectiveness over time so a glass of juice that has been sitting for several hours is nowhere near as potent as one that has just been made.
Juicing works well when combined with extra water intake and herbal teas.
Exercise That's right. After a month of lazing around, you have to get moving. Find an accountability partner and motivate each other.
Thirty minutes of sweating (high intensity – walking does not count) three times a week is enough to atone for your holiday sins.
Find a workout you love doing and create systems to help you stick with it. Placing your workout gear by your bedside is a simple cue to wake up and work out. You owe it to yourself to get fit.
Get a facial Either do one yourself, or have it done professionally. January is a lean month so you can use what you have in your fridge as a start.
Bentonite clay with apple cider vinegar is good, so is egg white and Greek yoghurt, or papaya and lemon. Not only will your skin look clearer, you will also get a self-esteem boost from taking care of yourself.
Try to cut out sugar Just for a couple of weeks to start with – 21 days is all it takes to form a new habit. Sugar has several negative systemic effects and it is addictive.
Replacing it with healthier alternatives is a key to maintaining health and youthful beauty.
Related Topics