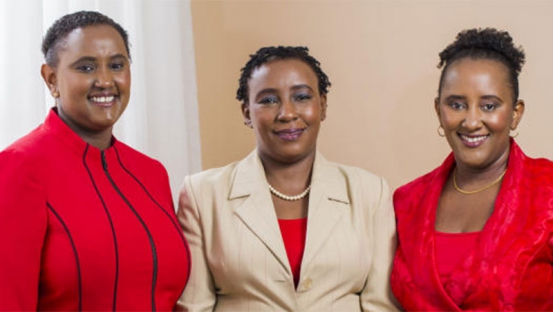 Running a family business is a different ball game from the dynamics of growing up in the same home. Yet the Muna sisters; Mwende, Mutheu and Samantha seem to have found their groove on how siblings can run a hospitality business.
In August 2010, the three sisters founded a company Trianum to provide a one stop shop for hotel investors looking for third party hospitality management skill set. Before services like these, serviced apartments, as they are sometimes called, were run as residential housing units with tenants required to sign leases and be responsible for cleaning and paying the utilities.
Short term expatriates found this cumbersome and preferred options that allowed them to check into an apartment hotel and get all services offered to them.
The Muna sisters realised the gap in the market and captured the niche of providing hospitality services to the apartment hotels.
Targeted at business travelers, the apartment hotels provide mid-market, no frills hotels that provide affordable clean, comfortable and professionally managed accommodation. The guest may choose to eat at a restaurant in the premises or to cook a meal in their apartment's kitchenette.
The Muna sisters bring in diverse work experience into the business. Samantha Muna, is the managing director with more than 23 years hotelier experience studying and working in Europe, America and Africa.
Mwende brings in 15 years of banking experience and oversees the finance function of Trianum. Muna who is in charge of legal and human resource has more than ten years of legal practice in Botswana and Kenya.
Behind the scenes is their mother, Jennifer Muna who is the board chair and has over 20 years in banking management. Working together as siblings after 15 years of having lived separately in different countries has its joys and challenges.
Work life vs home life
The Muna sisters have learned to appreciate each sister's strength. "We respect each view before reaching a consensus. Our work life and home life has integrated, including carpooling children from school, even though spouses now complain that business discussions extend to the dining table," says Mutheu.
Trianum does not own the apartments they manage: "We provide value add to investors as we take away the day to day running of apartment hotels. We do not participate in ownership entity but instead offer services that enable investors to remain focused on their core business of investing," says Mwende.
Trianum's staff team of 220 employees is spread across the five properties they manage which includes Executive Residency by Best Western, Fedha Residences in Kilimani, Mvuli Suites Museum Hotel, After40 Hotel and Vittoria Suites in Kisumu.
The role of a third party hospitality management firm differs from that of a real estate property firm.
"We hire and train staff, manage accommodation, housekeeping, laundry and maintenance and provide intensive skill management of waiters, housekeepers and receptions to deliver a memorable guest experience. Real estate firms are about letting and selling of property," says Samantha. Speaking at the recent 2017 East African Property Investment held in Nairobi, Samantha said: "From 2014 to 2016, the number of serviced apartments in Nairobi increased by 30 per cent from 2,790 units 2014 to 3,593 units in 2016."
Related Topics