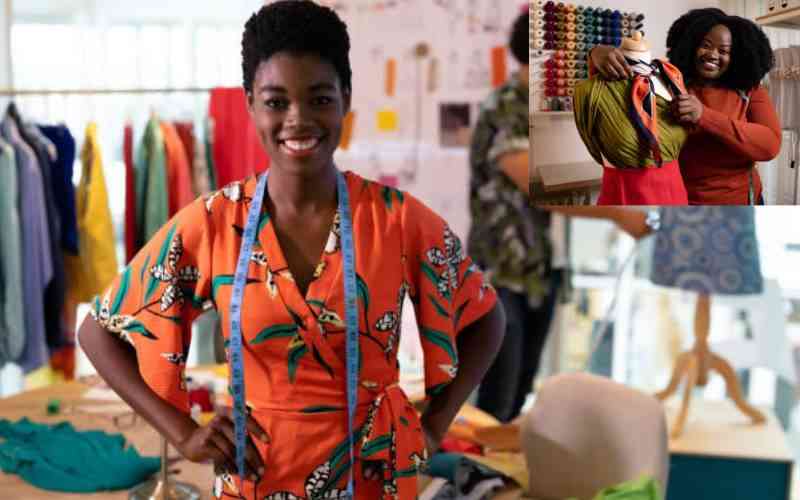 The Kenyan fashion industry has over the years become a force to reckon with. It's a multi-billion sector that has produced entrepreneurs and brands causing regional envy.
Fashion designers productively make Kenya a gala of flamboyance while contributing to the country's economic growth.
Taking note of the countless people joining the entrepreneurship consortium, Beverlyn Mawia, a female apparel-preneur decided to take a leap of faith three years ago and poured her few cents into the bazaar.
Dabbling in contemporary African pieces that feature various exciting Ankara prints and are ready to wear, her firm African Yuva has not only grown to become a successful local brand but also an accelerator to one of Kenya's money-makers.
Ms Mawia, an economics graduate and now a budding fashion designer, has so much inspiration that could trickle across some aspiring women in business.
Let's start right there:
KNOW YOUR MARKET
At a point when you are starting or running a business, it's important to ask yourself questions and answer them, it's also vital to learn the tips, tricks and turns of the trade.
"For you to start a business you need to know your market and understand what your target market needs. Secondly, you need to have the required skills like stitching so that you are able to make products that your market demands," advises Ms Mawia.
"You also need to have financial skills, social media skills, very skilled employees, and modern machines that work faster".
All this is so that you are able to produce an outfit that gets your customers looking forward to more.
FORMALISE THE BUSINESS
When you finally decide to go formal, business or company registration is an expedient pursuit.
The Kenyan government has ensured that the process is now easier for everybody through the e-citizen platform.
Once the registration is done, begin thinking about the concept and processes of your design outlooks.
Ms Mawia says the design work is quite detailed and that is why you need a very comprehensive process.
"One thing I've learnt is that failing to set up processes for your work could come back to bite once you're established and need to track back everything. That is why it's important to set up structures at the beginning to ensure the business can run end to end with or without you," she says.
CAPITAL
There's no business without financial capital. You may not have much, but you can start with the little you got.
According to Beverly, one can start a fashion brand with the little amount one has.
She started her business with about Sh3,000 which only afforded an outfit.
"When I started I did not have enough capital to put everything together at the same time. At the time I would look for tailors with workshops and I would sub-contract them to stitch my designs. It's in 2020 when I figured I'd saved enough capital to open my own workshop," says Ms Mawia.
RIGHT SUPPLIER
Considering the right supplier of fabrics is essential because a great design requires the perfect fabric.
Ms Mawia says: "There are fabrics in literally every country in the world, In Kenya…" you may buy fabrics from Nairobi Textile, Gikomba or Eastleigh (most of which are from China or some African countries like Cameroon, Nigeria and Tanzania etc). When you start growing and need to import additional fabrics you can source from Indonesia, India or Turkey.
"Personally I source some fabrics locally, but I also import some from Indonesia and West Africa".
SOCIAL MEDIA PRESENCE
Social media is an important asset in the fashion business. When you're starting you may not have money designated for lucrative marketing tools.
But with social media, you just need to open an account and make a post with just "kidogo" (few) internet bundles.
This is how Ms Mawia kicked off marketing. She also made and wore her own brand and this way other women were able to notice and inquire where they'd get one like that.
"Once they saw me wearing one they'd ask me to stitch the same for them. Little by little, I was able to launch African Yuva."
PRICING
You must be very wise in pricing an outfit in a way that works for your customers and still breaks even.
You must be sharp and predict what your target consumers are willing to part with, and with that in mind, factor in the production cost and profit margin so that your enterprise makes business sense.
"Look at how much are they willing to pay and what value are you giving them from your product and then price along that line. Also, look at all the other costs like labour, material costs and everything else then come up with a price that gets you profit at the end of the end. You will also want to do a price comparison with your competitors so that your pricing reflects the market rate," says Ms Mawia.
EMBRACE CHALLENGES
Last but not least, embrace challenges and struggle. It's important to recognise that nothing succeeds without stones that want to block your way.
Only when you embrace this fact will you brace yourself when hardship in business happens? One of the challenges Ms Mawia faces in her business is dealing with copy cats. She says once they spot your outfit on social media or see a legit consumer in an African Yuva brand, they quickly show it or explain it to their local tailor to execute a copy.
The other problem is dealing with kanjo (country askaris) who might come daily or on a weekly to harass you at work by asking for kitu kidogo (bribes).
Capital is a continuous challenge, especially when aiming for more growth.
The barrier to market entry is another headache.
All in all, fashion is an exceptional industry to tap into and pour your heart into. Today, people are realising what a jewel "Made in Kenya" is.
Adorning local brands has become a preference for more and more Kenyans.
Related Topics