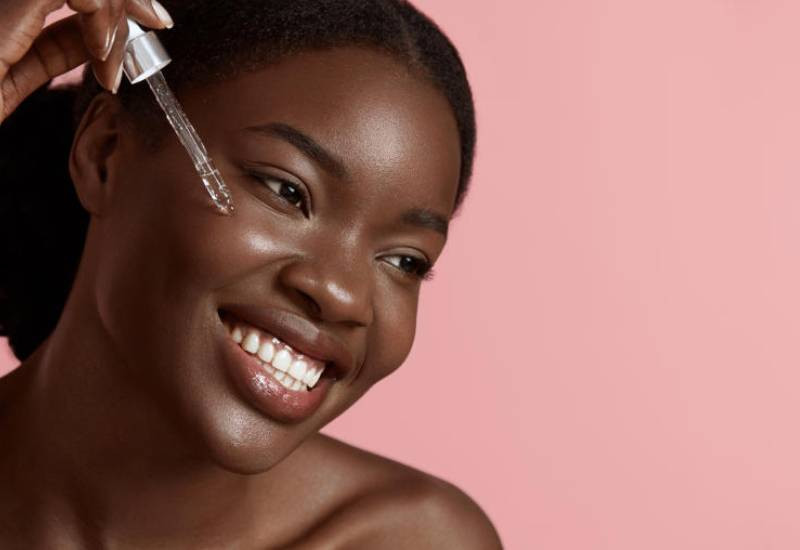 In your search for the best skincare ingredients, you might have come across arbutin. Arbutin is especially known for brightening the skin, fading dark spots, and improving the appearance of hyperpigmentation.
Let's explore everything you need to know about arbutin - including how it works, its skincare benefits, how to use it, and its potential side effects.
A derivative of hydroquinone is a naturally occurring skin-brightening agent that's found in many plant sources such as bearberry, mulberry, and pomegranate.
It works by inhibiting the secretion of melanin (skin pigment), which makes your skin look lighter. You're likely to find this ingredient in skincare products that are targeted toward gentle lightening and evening out your skin tone.
There are two types of arbutin - alpha and beta arbutin. Alpha arbutin is biosynthesised by microorganisms while beta arbutin is extracted from the leaves of various plants and fruit peels. Studies show that alpha arbutin is 10 times more effective in skincare.
BEAUTY BENEFITS
Arbutin has several skincare benefits related to brightening and lightening. Let's briefly explore some of them:
Brightens skin: Does your skin look dull and lifeless? Adding arbutin to your skincare routine can brighten your skin by removing dark spots.
Sun protection: It protects your skin from the darkening that's associated with sun exposure. This gives you a lighter and more even skin tone.
Fades scars: If you suffer from acne scars, consider adding arbutin into your skincare routine. Due to its lightening effects, arbutin is highly effective in fading away stubborn acne scars.
HOW DOES ARBUTIN WORK?
Have you tried kojic acid or licorice for skin brightening? Arbutin works just like those two gentle skin-brightening ingredients but it's more effective.
As we've noted, arbutin is a derivative of hydroquinone - one of the most-effective skin-lightening ingredients. However, hydroquinone comes with many potential side effects - which is why it's banned in the EU and Japan.
Arbutin is a much safer alternative and is known to have antioxidant and anti-inflammatory properties. It works by slowly releasing hydroquinone over time, inhibiting tyrosinase, the key enzyme responsible for the production of melanin in the skin.
This slow release of hydroquinone reduces the likelihood of harmful side effects. This means that arbutin doesn't have the toxicity that's associated with hydroquinone. You can, therefore, use it consistently in your skincare routine.
CAN YOU USE ARBUTIN FOR PREGNANCY HYPERPIGMENTATION?
No. Since arbutin is a derivative of hydroquinone, it isn't considered safe for use during pregnancy. However, more study is needed on the potential side effects of arbutin on pregnant mothers and their developing babies.
A good alternative is vitamin C. Just like arbutin, Vitamin C inhibits melanin synthesis by downregulating the activity of an enzyme known as tyrosinase. Vitamin C also comes with wonderful anti-aging benefits due to its antioxidant and collagen-boosting properties.
HOW TO USE ARBUTIN
Arbutin is generally safe for all skin types. However, it's still prudent to perform a patch test before applying it all over your face.
Start by applying it to a small area on your forehead. If you don't experience irritation in 24 hours, you can start applying arbutin on dark spots during your nightly skincare routine.
After using it as a spot treatment for a week, if you don't experience irritation, you can start applying it all over your face. Gradually work your way to using it twice a day - in the morning and in the evening.
When applying arbutin, avoid the eyes lips, and mouth. You can also apply it on other skin areas affected by hyperpigmentation - such as the neck, chest, and hands.
Wait for a few minutes for your arbutin cream to absorb and dry and follow up with your regular moisturizer.
If you're using arbutin in your skincare routine, it's important not to skip sunscreen. Your skin is more susceptible to sunburn when you're using arbutin as it reduces the amount of melanin on your skin.
Plus, the goal is to get rid of hyperpigmentation, so going out in the sun without wearing sunscreen is kind of counterproductive. While at it, try to limit the amount of time you spend outside under direct sunlight.
POTENTIAL SIDE EFFECTS
Due to its use as a skin-lightening ingredient and the fact that it's a derivative of hydroquinone, understandably, many people worry that arbutin can be harmful to the skin.
Some people might experience irritation, mild acne, sunburn, and redness from using arbutin.
Related Topics