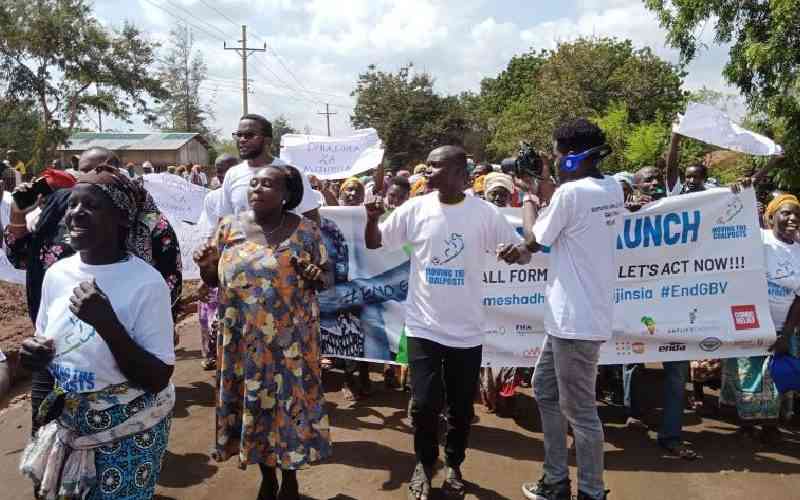 June 15 was like any other day for Ms Kadzo (not her real name) at a Mnazi den (palm wine club), on the outskirts of Kilifi town where she worked as a waitress.
An orphan, who had 12 siblings to fend for, Ms. Kadzo had for years hustled to look for a job. She knew a job at the Mnazi den had many risks, but she had no option.
"That day, I slept at the workplace because customers were many. At around 2 am, a man broke into the 'bar' and threatened me with the knife and raped me," she said.
She added; "he tore my clothes and used them to cover my mouth. I tried to scream and begged him to stop but I wasn't loud enough."
She reported the matter at Kilifi Police Station, but police say they have launched an investigation into the incident.
Days after the incident, she was fired for embarrassing a client.
But Kadzo is not alone. Many women who have been raped in Kilifi are either suffering in silence or have reported the cases but the perpetrators are walking free.
Data released by the County of Kilifi Gender-Based Violence Response Centre the youngest victim is a two-year-old baby girl from Bamba.
It also reveals that rape and intimate partner violence (IPV) cases have gone up by 10 per cent.
The County Executive Member for Health, Charles Dadu Karisa, admits that the state of gender-based violence in Kilifi is shocking. "In 2022, the county has recorded 383 cases of GBV compared to 501 cases in 2021, this indicates an increase considering that the year is yet to come to an end''.
He said it is worrying since there is no support to access treatment for survivors of violence due to a lack of safe homes. Worse, most of the victims are raped by people close to them.
"Kilifi lacks safe houses where victims of violence can seek shelter as they seek justice. Therefore, many of the abused women are forced to return to their abusive husbands," said Dadu.
He said rural parts of Ganze, Magarini and some parts of Malindi are hotspot areas.
"In dealing with violence against women, the county government has opened a fully-fledged sexual and gender-based violence recovery center at the Kilifi hospital, with outreach satellite stations in Malindi, Mtwapa, and Bamba," he said.
The report further indicates that many survivors of violence, mainly women, have been left with serious injuries. Others have died.
Kilifi County Focal Person for Reproductive Sex Maternal Child and Adolescent Health, Dr. Kennedy Miriti, said many cases go unreported or victims do not report within 72 hours.
"We also have a challenge of visiting victims at their homes because of stigma. So we always give them a schedule to visit the hospital though the majority don't honour their schedule," he said.
Mr Tsuma Nzai, a director and custodian of Mijikenda traditions at Magarini cultural center said a big number of SGBV cases are being settled by village elders. "It's sad that most cases are handled by wazee wa mitaa (village elders)," he said, adding, that perpetrators are fined Sh500 or two goats.
He said in the Mijikenda community, a woman, who has been raped can be cleansed through a traditional ceremony called 'kuworyorwa' to remove the bad luck.
The cleansing ceremony is done through the skinning of a black sheep alive by the herbalist. Both the victim and the perpetrator are smeared with the dung of the slain sheep all over their body.
"If the married woman, the man pays a fine(malu) to the husband, but if she is unmarried, the man will be forced to marry her," said Tsuma adding that this culture is still in practice.
Initiatives by civil society organisations such as Moving the Goalposts have intensified campaigns to end GBV at a community level by using football as their main tool.
Moving the Goal Post coordinator, Ms. Beatrice Akinyi, said that there is a lack of proper coordination among organisations that handle cases of violence against women.
''Women need to find their voices to fight for lasting change. To effectively address the crisis, all stakeholders urgently need to come to a consensus about how to deal with cases of physical and sexual violence against women in Kenya," said Ms. Akinyi.
She added: "Access to justice is difficult because the medical examination is inadequate at the facility level. During investigations on rape and defilement, a victim will be given the emergency pill [contraception] but later turns out to be pregnant."
Mrs. Mumina Alaso, a community health volunteer, says most of the Gender-Based Violence Recovery Centers lack sufficient supplies of essential materials and medicine.
In Kenya, a victim of sexual violence must be able to get DNA collected to enable the prosecution to take place. She must also be given the emergency contraceptive pill to prevent pregnancy and must be put on pre-exposure prophylaxis, also known as PrEP, to lower her chances of contracting HIV.
"Gaps that need to be addressed include how to deal with sexual violence under emergencies. How does a woman who has been violated leave home and get to a major government referral facility?" asks Mumina.
In March this year, Chief Justice Martha Koome opened the first ever special sexual gender-violence court at Shanzu Law Courts in Mombasa.
Koome reiterated Judiciary's commitment to ensuring that SGBV cases are dealt with and expedited as required in the coastal region.
Related Topics