Home
/
Bridal
'I kept mistaking her twin sister for her'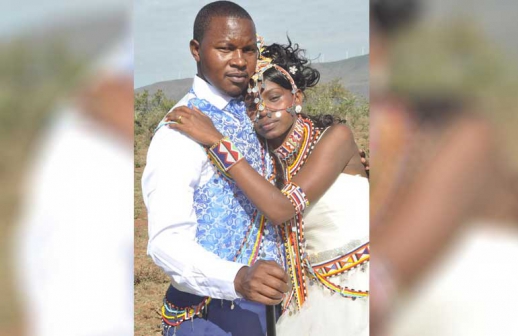 BRIDE'S NAME: Faith Nashipae Lenkoina
GROOM'S NAME: Sam Marona
DATE OF WEDDING: December 13, 2014
NUMBER OF GUESTS: 800
CEREMONY AND RECEPTION VENUE: Maasai Gardens, Ngong, Kajiado County
BUDGET: Sh800, 000
FIRST DATE
Sam: It was on November 7, 2009 when we first met, prior to the meet up, we had been talking on phone for sometime. I asked her out through the phone and she took quite some time to answer but she agreed after I had insisted. I had a hard time differentiate her from her twin sister during the first date.
Faith: When he asked me out, I had mixed feelings, I was nervous because I did not want to be in a relationship that wasn't for a lifelong commitment.
THE PROPOSAL
Sam: After dating for more than a year, she had been asking if I would propose to her before our wedding, I took long because I wanted to make it a surprise.
Faith: He did it at a restaurant outside town though I had been hoping he would propose for a while before that, but I had no idea when. He had the ring with him the whole time, but I didn't even guess. He got so nervous, he finally led me over to a bench and sat me down.
You're never prepared fully for that moment to happen. I don't remember everything he said because it was such a blur, but I do remember he said, "I always dreamt of finding the one that would complete my life. With you everything feels right."
After that, I realised what an incredible journey we were embarking upon together. I never thought that the 20-year-old man with shaggy hair would grow into the strong, hardworking and loving man that would be waiting for me at the altar.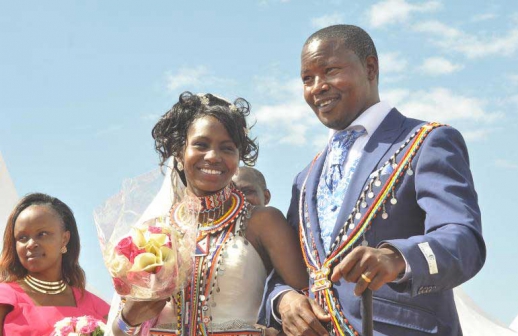 THE DRAMA
Sam: The planning of the wedding itself was a big deal, we both opted to approach different wedding planners and, eventually, we did the planning ourselves. Then the process of obtaining the marriage licence was another obstacle, it was such a hustle.
Faith: We went through some traditions, Sam was supposed to pay the dowry part of it being cattle, which were supposed to be brought to my father's home the evening before my wedding day. On my wedding day, I had to put on a Maasai shuka in order to be blessed by elderly men - age mates to my dad - and finally I put on my wedding gown.
Sam: We differed a lot on some issues, first I did not like the kitenge on the maid's dresses until the lady doing the job did a sample.
Also during the dowry negotiations, according to the Maasai tradition the bridegroom must arrive to bride's home before sunset. We arrived at around 8pm and women blocked our way.
Faith: I went to the salon on the eve of the wedding and I did twisted braids. When I was done I realised I didn't like the hairstyle and decided to change to a long weave, this took almost the whole day.
WITH HINDSIGHT
Start planning early to avoid a last minute rush. If you can, pay your service providers in instalments, and in as much as your friends may be well meaning in their suggestions, make the wedding yours. It is your wedding anyway.
Faith: Two weeks before my wedding, everyone kept telling me not to worry about anything. But as much as I tried not to worry, I kept thinking what if something went wrong that day, I kept repeating that in my head whenever I felt my inner crazy person coming out.
I would not change a thing about that day. It was absolutely amazing to be surrounded by all of our friends and family. I really appreciate my twin sister she stood with me all the time.
MEMORABLE MOMENTS
Faith: The vows. It was that moment that I was making a lifelong commitment.
Sam: The color mixture of the ladies outfits worked well and the honeymoon... we opted to have it in a land of incomparable enchantment, we took dinner under the stars on the banks of the Mara River.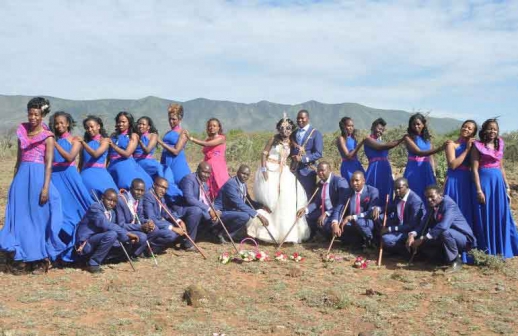 Related Topics