Home
/
Beauty
How to banish back acne forever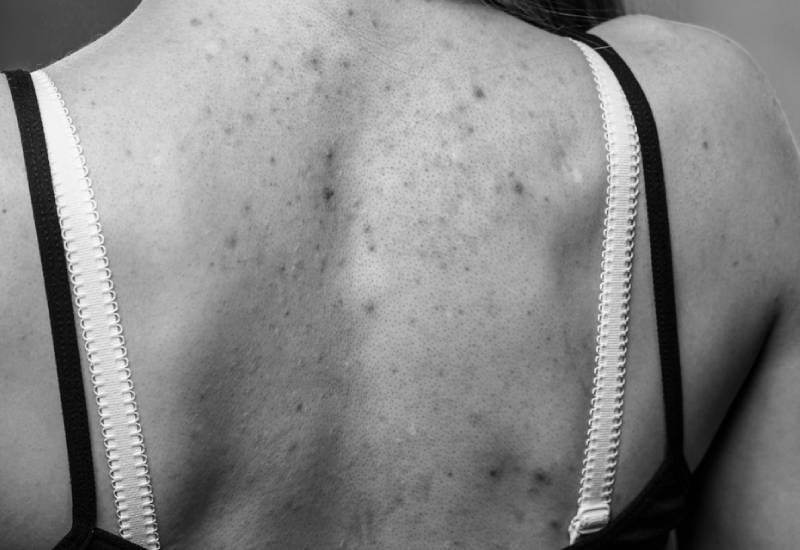 Facial acne, being a common skincare menace, gets all the attention. But body acne rarely gets a mention.
Body acne can appear on any skin area with oil-secreting glands or hair follicles. This includes the back, chest and shoulders.
Back acne, which is sometimes referred to as bacne, can be particularly stubborn and frustrating.
For some people, back acne causes small, relatively painless pimples. For others, it can lead to large cystic acne zits that can be painful and pus-filled.
The root causes of back acne are similar to those of facial acne. If you have overactive sebaceous glands, the oil they produce combines with dead skin cells in the pores. This leads to plugging of the pores, which provides fertile ground for bacteria to breed and cause redness, whiteheads, blackheads, and infection.
Hormones can also wreak havoc on your skin, leading to facial or back acne. For instance, you are likely to notice acne breakouts around your period.
In addition, genetic factors might also make you more prone to back acne. What you eat and your stress levels may also explain why you have acne.
However, while the root causes of facial and back acne are similar, the skin on your face is very different from that on your back.
The skin on your face has more blood supply, which promotes faster healing and also reduces scarring.
Fortunately, the skin on your back is thicker than that on your face. This means your back skin is more resilient and can comfortably handle treatments that are too harsh for facial use.
Although the skin on your back is resilient, treating bacne can be every bit as challenging as treating facial acne. Your treatment plan is largely determined by the kind of back acne that you have.
For instance, if you have cysts, it is better to consult a dermatologist for quick-acting cortisone shot oral antibiotics, or stronger prescription topical treatments.
Less painful acne such as whiteheads and blackheads, on the other hand, can be comfortably treated at home.
Let us explore the different treatment options for back acne:
Benzoyl Peroxide
Topical creams or washes are usually the first choices for treating mild to moderate back acne. Benzoyl peroxide is particularly recommended for treating back acne as it helps slough away dead skin cells, prevent oiliness, and has antibacterial properties.
You should apply the treatment, whether in form of cream or body wash, on the whole, affected area and not on just the spots.
The American Academy of Dermatology recommends leaving benzoyl peroxide cream or wash on your skin for two to five minutes before washing it off.
People with mild back acne can usually notice a significant improvement within a few days of using benzoyl peroxide. For moderate to severe back acne, it might take four to eight weeks for pimples to clear.
Oral Pills
If you have moderate or severe back acne, a dermatologist is also likely to prescribe oral medications such as antibiotics, hormonal birth control pills, or isotretinoin.
Although it is very effective in treating acne, isotretinoin comes with considerable downsides – it can harm unborn babies when used by pregnant women and it has also been linked to joint pain, depression and suicidal thoughts.
Hormonal pills, on the other hand, can affect a woman's menstrual cycle and hence are not recommended for adolescent girls, pregnant women, or women that are trying to conceive.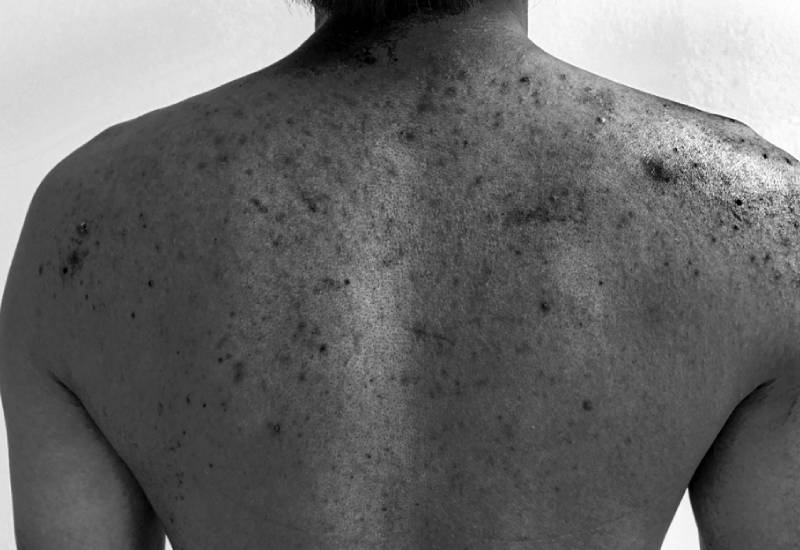 Retinoid Treatments
Retinoid products are a great option for treating back acne. Retinoid is known for speeding the skin's natural cell turnover, which helps unclog pores and banish acne faster.
Retinoid creams or body washes can be used alongside benzoyl peroxide. You can invest in retinol body lotion to treat back acne or simply repurpose your retinol facial serum.
For best results, apply the retinol treatment before bed and leave it on till morning.
Salicylic Acid
Many acne products in the market contain salicylic acid, which is known for its antibacterial and soothing properties.
Salicylic acid is a beta hydroxy acid that penetrates your skin pores to clear the build-up of dead skin cells and oil.
A body wash with salicylic acid is recommended for both treating and preventing back acne.
Bleach
Not as scary as it sounds, bleach is also a great treatment option for back acne. Dermatologists often recommend diluted bleach baths for skin conditions such as eczema, dermatitis and stubborn body acne.
Bleach helps kill bacteria living on the skin. To treat back acne, look for body washes containing sodium hypochlorite, the active ingredient in bleach.
You can also make your own bleach bath using normal household bleach. Add a quarter or half a cup of five per cent household bleach into a bathtub full of water and sit in the solution for about 10 minutes.
Unless directed by a dermatologist, limit diluted bleach baths to once or twice a week.
Preventative measures
Prevention is always better than cure. If you are prone to back acne, some measures you can employ to prevent outbreaks include: exfoliating your skin regularly, taking a shower and changing into clean clothes after working out, wearing loose-fitting workout clothes, and sticking to a healthy, balanced diet.
Related Topics