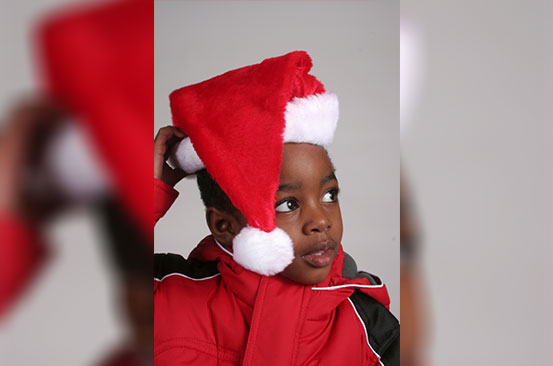 Very early on Christmas morning, my Aunt Faye comes with my little cousin Laila, who is just three. Laila is a baby! Not like me, big boy Drago, who will turn four in April – and start Pee Pee One in January in Heaven School ...
When the doorbell rang at 7am, I ran so fast to the door. I thought it was Santa Claus coming to bring me a lot of presents. Kumbe it is my aunt Faye, coming to take me to ushago.
My mummy and my daddy, who is sick, said they would come later, in another car.
So off we goed. Aunt Faye alone in front driving. Me and Laila in the back seat, strapped into our seatbelts. We played and fighted with Laila all the way to ushago.
Laila she getted out of her belt and Aunt Fayie stop the car, smack her and strap her. She cry!
Scared, but braved, I leaned on my seatbelt when Aunt Fayie was driving the car so fast. And opened the car door. Sadly, it did not open, whoooo, and let the car door fly in the wind, the way I'd want it to.
'Drago,' Aunt Fayie roared from the front, 'unafikiri si kuoni? Hizo milango ziko na child lock.'
READ MORE
I think Aunt Fayie is a monster like Kara Gacha, with one eye hidden by hair at the back of the head. Aunt Philo also told me all of Kara Gacha's face is one big mouth to eat kids, coz he is Ogre – like those Naijas who stay many on fifth floor of our flat.
When we gotted to ushago, we find my Ntagu had cut a Christmas tree, and my Shosh had buyed and put up so many lights.
'Where are the presents under the tree?' I asked them.
Ntagu took me to the backyard, and point at a big jogoo and say: 'There is your present, grand-sonny. You will get it in your stomach at lunch time, ho ho ho,' he laughed like Santa Claus.
I remembered how when I was three, long ago during country lockdown, when I stayed here in ushago for three months, Ntagu kilded so many chicken as a treat for us to eat.
Because he is a poor tree (poultry) and mirror farmer in Meru! The Xmas tree must be one of his poor trees.
My Aunt Emma came with my older cousins, Naughty Nathan, 7, and his small brother Adrian.
After lunch, my shosho put us in her Demio, Nathan in front, me, Laila and Adrian behind with belts and baby locks, and took us to a nice place in town.
We ate a lot of chips and drinked a lot of Christmas soda.
But when we wented on bouncing castle, I throwed up, and Shosho said 'sorry' to the castle caretaker, and said: 'Huyu mtoto amekula chips na kunywa soda mingi, poleni.'
I rested, but when I sawed my cousins in the baby pool, I also cried to be able to swim.
It was hot in the 4 afternoon, and we swim, swim, swim till 6pm, closing time.
But when I comed out of the pool, I'm so cold! Baby trembles and shakes, and Shosho said: 'Huyu mtoto yuko na fever high sana...'
Back at Ntagu's house, Shosh she feed me, but I throwed up again!
At night I sleep with Aunt Emma, but I feel so cold, I cried for my mummy until I sleeped.
In my dreams, I was chased by Kara Gacha, with a big mouth in face, and eye at back of his head, so that he runned backwards, with BIG flat feet with very sharp toenails like nails!
When I waked up asubuhi on Boxing Day, I am itching all over, kumbe viroboto have eaten me on my hands and my legs. 'I want my Mummmyyy,' I wailed, till Aunt Emma call her on phone.
'Baby,' my mother said, 'yaani you've gotten your Daddy's fever, chills, cold and throwing up?'
Kumbe my mummy and Milan had stayed behind in Nairobi with Sick Daddy, and planned to come ushago on New Year's Day, then we go back together on Sunday, as I stay with cousins.
'Also Daddy has been eaten by viroboto in Nairobi?' I asked.