Maalika Kazia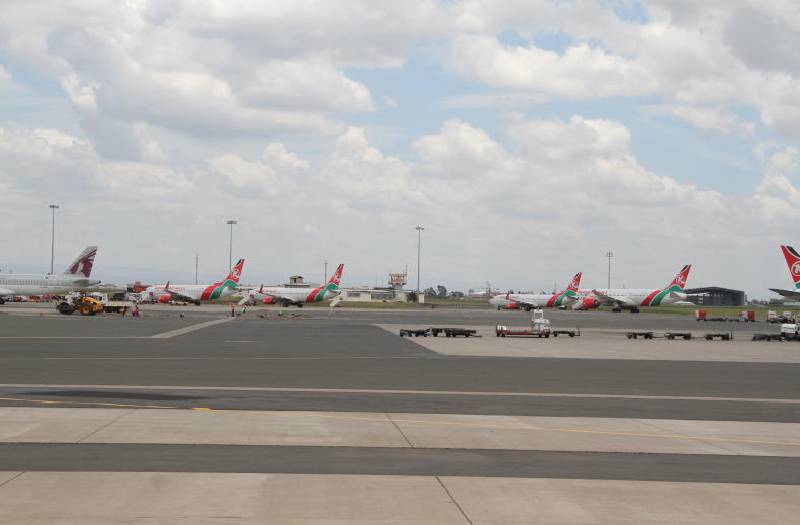 Empty aisles, no man or woman at the check-in desk, a deserted baggage wrap stand, an eerie silence enveloping the entire ground. This is the scene at the Jomo Kenyatta International Airport (JKIA). It is heart breaking to say the least.
ALSO READ: International study ranks Kenyan grade two and threes last in literacy levels
As we make our way unencumbered to the runway, we are met with an intriguing sight. Over 10 planes, parked in a diagonal formation with nothing but a somber cover atop their jet engines. As if wearing sleep masks to tuck in for the night. But the bright sun glittering off their wings is taunting at the irony. Some metres away their cargo carrying brothers are bustling with activity.
We are at JKIA, speaking to Abel Gogo the Airport Manager. A soft spoken man with an easy smile and optimistic stride as he walks us through the grounds. To battle the coronavirus, on the 25th of March 2020 the government of Kenya suspended international flights.
On the 6th of April 2020, the cessation of movement in and out of 4 key counties was put in place. These include the Nairobi Metropolitan area, Mombasa, Kilifi and Kwale. Following this, the Kenya Airports Authority halted all domestic flight operations in and out of JKIA, Wilson, Moi, Malindi and Diani airports for 21 days.
"With time the decline started coming in until a point we had no operations other than facilitating only a few evacuations as approved by the government," says Gogo.
Aviation industry stakeholders and airline employees are understandably in a difficult position. Gogo explains that "The Kenyan aviation model basically operates on a spoke and a hub model so the small airports feed the main hub…The small airlines usually feed into the wide bodies."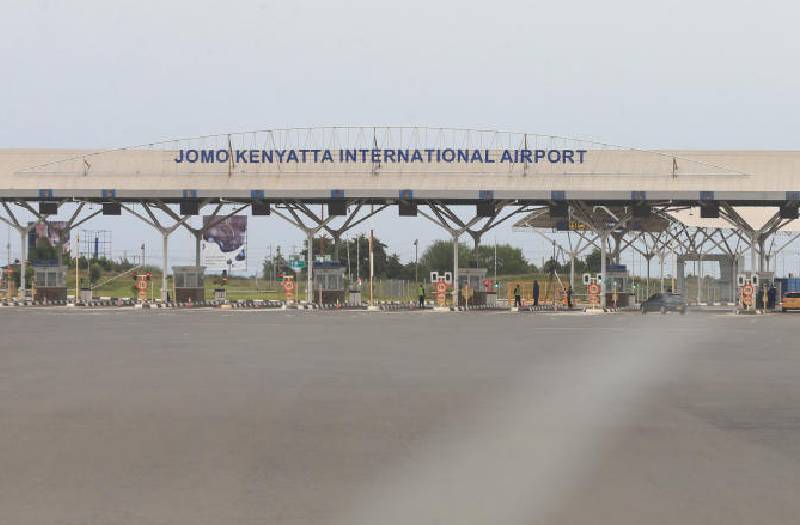 Taking advantage of the lull in passenger operations, the airport is putting installations in place, anticipating a new normal post-corona. Hygiene and limited human contact are paramount and so JKIA is installing digital check-in and immigration counters. Passengers thus will not need to interact with attendants at these points.
Gogo reveals "We are expecting a lot of changes indeed going forward. In the new normal we have to look at enforcement of social distancing, blanking some seats to reduce congestion. Passenger load reduction will unfortunately mean higher prices too… we expect to have combi operations where the same flight carries both passengers and cargo."
ALSO READ: Kenya loses first doctor to COVID-19 at only 39
JKIA is one of the main hubs of cargo in the region and a key distribution center. "We have been receiving cargo from a lot of different countries. Initially demand for horticulture and other fruit and vegetables dipped – but it has picked with time and continues to grow."
While passenger flights may never be the same post-corona, when the government eventually lifts cessation of movement, slow growth is expected and the domestic market touted to pick much faster than international travels.
Packing up your bags and hopping on a plane to the coast for the long weekend, or flying across the world to attend a conference will most likely never feel the same.
In the new normal I wager that the physical sanitation measures may be effective to an extent, but our mental alarms dinging warnings may never be snoozed. Not only reminding us to be cautious of the journey, but also the destination too.
Even as the aviation industry anticipates and implements changes to the modus operandi, reminders of COVID-19 could quash many a travel bug in the future.
- The full interview with Abel Gogo will air on KTN News's Trading Bell show at 8pm on Wednesday 20th May
ALSO READ: Ciara opens up about being pregnant during a pandemic
- The writer is a reporter and anchor at KTN News