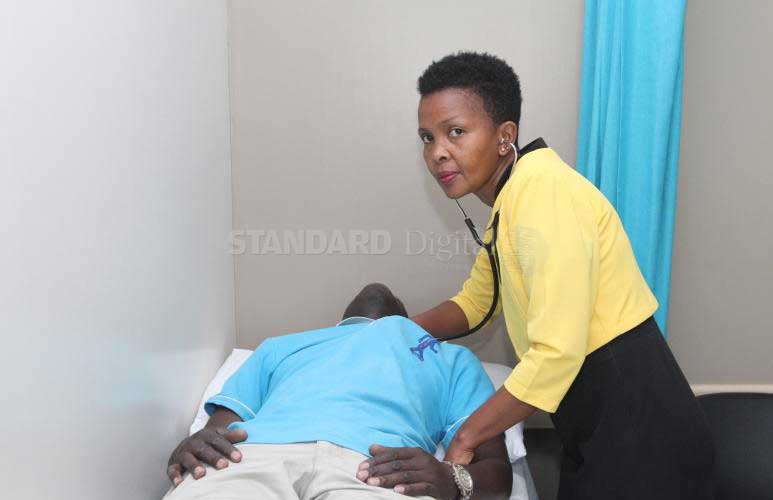 Mercy Njeri is not scared of death. When a patient is critically sick, relatives start whispering about the impending end, with some running away from the reality of mortality. But Njeri finds herself as the woman who whispers words of consolation to the patient. As a palliative care nurse who cares for critical and terminally ill patients, she has seen more deaths than she cares to count.
ALSO READ: Move it: Why I quit my job to pursue cycling
"I take care of patients not able to care for themselves. I wipe them, check that their wounds are dressed, and give them more than medical care. I ensure that even if they are dying, they die with dignity," she says.
Ever since she was a young nurse, she loved the feeling she got when she relieved her patients of suffering. Her interest in palliative nursing was triggered 13 years ago after attending a palliative care conference.
"I did a higher diploma in palliative care at Oxford Brookes University thanks to Dr Brigid Sirengo, founder of Nairobi Hospice. I started having a different outlook, wondering what happened at home after discharge since that's where patients spent most of the time during the disease trajectory. How were the families coping? I eventually resigned from Nairobi Hospital and joined Nairobi Hospice in 2017 and enrolled to do my degree in palliative care the same year at Makerere University," she says.
She then went into fulltime care of the critically-ill. When the patients get into intense pain and start screaming for morphine, she is the woman who shows up to ensure they have medication. When they lose their bowel movements and soil their clothes, she wipes them. When families are breaking down because the angel of death is hovering, she offers them a shoulder to cry on.
"She visits when I least expect her, and she keeps telling me that things will be okay. She sometimes helps me clean my house. Even shops for me when I have nothing," says Anastacia Adhiambo, a patient in Kibera who has colon cancer.
She says even though her job sounds like it is all gloomy, there are moments of satisfaction.
"I love helping families accept that death is near, let go of past bitterness, reunite and say goodbye early which helps them move on and have an easier bereavement," she says.
ALSO READ: Inside JK Rowling's Sh290 million mansion where she penned four Harry Potter books
She remembers a case of a dying husband who went back to the wife he had previously abused and walked out on. The couple was in the process of a bitter divorce when the man was diagnosed with advanced cancer. She helped reunite that family, guided the man on writing his will and prepared the family for his transition.
She acknowledges that being a palliative care nurse can be emotionally draining. The greatest lesson she has learnt through it all is: "Life is short. Every moment you wake up and have no pain, thank God. All the wealth we accumulate in this world can easily amount to nothing. I have nursed the rich and I have nursed the poor, when that time comes we are all the same. Money cannot save us."
Do not miss out on the latest news. Join the Eve Digital Telegram channel HERE.