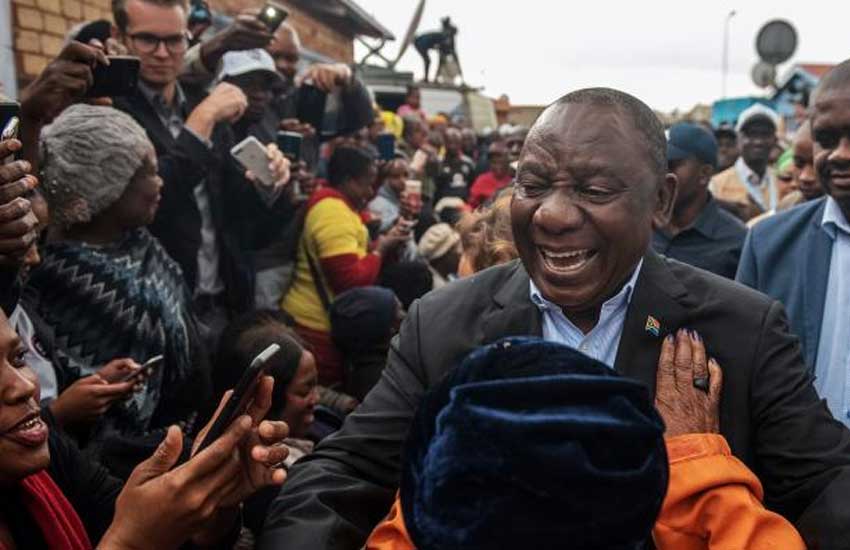 South African President Cyril Ramaphosa on Wednesday called a joint sitting of Parliament to tackle the crisis of violence against women.
"I have called this special joint sitting of the houses of Parliament because there is a dark and heavy shadow across our land," Ramaphosa told MPs at the joint sitting.
There is a very violent and brutal war underway against the women of South Africa, he said.
Ramaphosa said South Africa was one of the most unsafe places in the world for a woman to live in, with levels of violence that are comparable to countries that are at war.
The latest development came amid an increase in cases of femicide, which has shocked South Africa in recent days. Last year, 2,700 women and more than 1,000 children died at the hands of another person in South Africa, according to the president.
Every day the police receive more than 100 cases of reported rape, Ramaphosa said, adding that this did not include the many more cases of rape and sexual assault that were not reported, Ramaphosa said.
Figures provided by Statistics South Africa show that one in five South African women older than 18 has experienced physical violence by a partner.
"While it has its own specific causes and features, gender-based violence reflects a broader crisis of violence in our society," Ramaphosa said.
Confronted with the bad situation, he said, South African women demanded that a state of emergency be declared. This "will enable us to deal more effectively with the scourge," said Ramaphosa, adding: "Now it is time for all political parties to place violence against women at the centre of their concerns".
Ramaphosa said he was looking forward to hearing concrete proposals from political parties on how these challenges can be tackled together.
"To enhance the safety of women we are going to, as a matter of urgency, make the necessary amendments to our laws and policies to ensure that perpetrators of gender-based violence are brought to book," said the president.
Given the urgency of the situation, the government has developed an emergency action plan, which will be implemented over the next six months.
The plan strengthens existing measures and introduces new interventions in five principal areas - effective prevention of gender-based violence; strengthening of the criminal justice system; enhancement of the legal and policy framework; adequate care, support and healing for victims of violence; and improvement of the economic power of women.
This emergency action plan will be driven by an interim steering committee located in the presidency.
Do not miss out on the latest news. Join the Eve Digital Telegram channel HERE.
The views and opinions expressed here are those of the author and do not necessarily reflect the official policy or position of Evewoman.co.ke