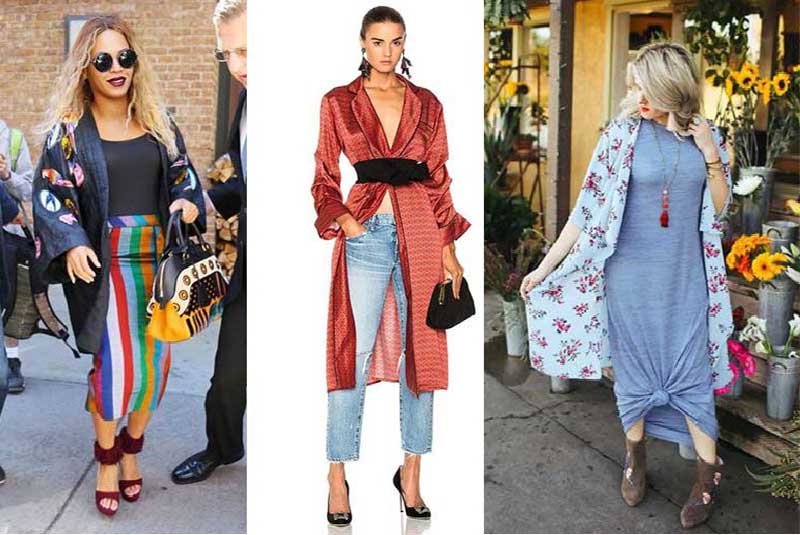 ALSO READ: Congolese designer, Anifa Mvuemba, hosts first virtual fashion show
The kimono is a long and traditional Chinese garment that is worn for various ceremonial festivities but it has become a worldwide trend that is here to stay. Kimonos have been designed in different ways; it can be long, short, chiffon, cotton, denim and the list is endless. The advantage of a kimono is that it can be worn in the office, functions or dates. It does not restrict you. There are many ways to style a kimono but here are five stylish tips that will guide you on how to slay in a kimono:
Pair the kimono with pair of trousers- The trousers could be of any type of material for instance denim which is casual or cotton that can fall under official or casual. To make it look edgy, you can try cropped pants, boyfriend jeans or wide leg pants.
Pair the kimono with a dress- When you want to feel like a little girl, pair your kimono with a dress. It can be midi, short, long, body-con, leather or floral. This perfect for the hot weather. When pairing a kimono with a dress, always look at its prints for that will guide you on what color the dress should be. You don't want to look like a walking clown.
Pair the kimono with a skirt- Skirts always give a feminine vibe and it's trendier when paired with a kimono. Fashion is about going an extra mile so the skirt can be long, striped, short, body-con, pleated or double-slit. This look can work for a date, office and casual.
Pair the kimono with a belt- Take your kimono look to a new level by adding a belt. If you want to accentuate your waist with the kimono, simply accessorize with a belt. This will give your look a sexy and sophisticated feel. Some kimonos come with belts while others don't. If yours has no belt, it does not hurt to buy one.
Pair the kimono with swim suit- If you want to look stylish at the beach, just pair your swim suit with a kimono. It makes you feel more confident especially those that are too shy to show their curves.
Do not miss out on the latest news. Join the Eve Digital Telegram channel HERE.