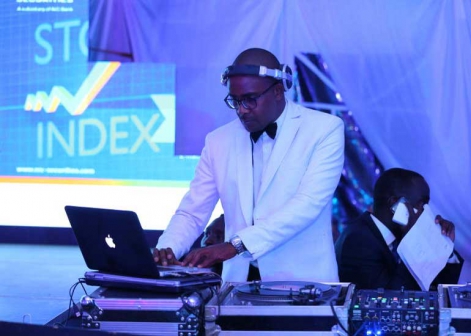 Where did you get the cool name Kamjo?
I was in Nairobi School and my pals just combined my two names, Kamau Njogu. My first name is Kenneth, by the way.
What is your schooling background? Deejay academy like that one of HomeBoyz?
Ha ha. I completed my degree in Mechanical Engineering in 2009, mixed with some CPAs, but had taught myself some serious spinning during my spare time. I think it is a good thing, when one is in college, to stay busy with things like hobbies even on weekends in order not to fall into time-wasting vices.
Clever lad. And then what happened?
I worked for the beer company Sierra on Mombasa Road for six months, then for Kenol Kobil for three years, before I decided to concentrate on building my entertainment outfit, The Disc Men Entertainment. I am a hard worker in everything I do, with excellent time management skills.
Why did you quit corporate life?
For a while, actually, I mixed the two, putting in a full week of company work in Eldoret, then making the six-hour journey to Nairobi on Friday afternoons to do gigs till Sundays, but it just became too exhausting.
Was it a scary decision?
It took me six months to get the guts to jump out. I mailed my resignation with explanation to my good boss before I broke the news to my family so no one could get me to change my mind. They were apprehensive but hopeful. Throughout, my then girlfriend (now wife) Matilda Nzioka was very supportive. I always appreciate her, my parents, family and friends for always being supportive.
And are you living your dream work life currently?
I work out of the house, daytime, and stay up quite late every third night out on the gigs. Weekends are for clients, and as I love to offer a reliable and punctual service, most Saturdays and Sundays are all hours. We do about ten events a month – weddings, corporate events, event management. And offer comprehensive support services – from sound, lighting, screen, stage and even smoke machine.
So, do you think you'll get political gigs this year?
Actually, I did this one event last year for a popular Rift Valley politician, and got some great referrals after I surprised them with Kalenjin music. Then we had a gig at the Argentine Embassy. And we pleasantly awed them with great Argentine melodies. The Argentines are great! You have to thoroughly conduct research on the client. One cannot just play 'Thitima' at any event because you've heard it's a hit.
Which events have you done gigs at as the official disc folk?
Used to do lots of Ogilvy & Mather events, Toyota, NIC Bank, the launch of the Garden City Mall as well as being the official DJs at over 44 weddings last year. If you are planning a wedding this year, then Disc-Men entertainment are the best for that special once-in-a-lifetime event.
For More of This Stories Subscribe to the Standard Epaper to get a copy of Eve Woman in the Standard
Your guys (Disc Men) did the gig at your wedding last year?
(laughs). If you do a good job, you will also get good buzz. And that applies to everything in life.
Sound advice, no pun intended. What other piece of wisdom do you have for young people?
Young men and women shouldn't be scared of doing the thing they love because they fear loss of security. Make that move into the unknown to live the life you want, because time is short. But I don't believe in risky leaps into the chasm. Rather, I believe in well-planned baby steps. So take time to plot your career moves, and put a toe into the water first before you take the plunge.
Because the water might be deeper, or chilly, than you think?
Yeah. There may even be sharks. So you want to be prepared, and know how to swim.
Do not miss out on the latest news. Join the Eve Digital Telegram channel HERE.