Tony Mochama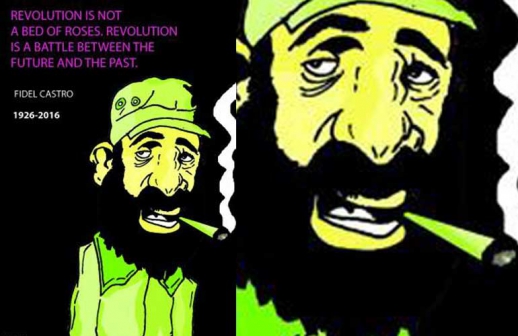 Ten things all men could learn from Castro
ALSO READ: Alarming number of Kenyan men addicted to sex drugs
Fidel Castro passed away two weeks ago, but I wanted to save this article for this long Jamhuri Day weekend, when we are supposed to reflect on national heroes, past and present.
Sadly, Kenya is a country desperately short of heroes. Instead we have 'explainers' like Kidero, denying charges of missing billions. We used to look up to doctors, but now they are so mis-treated, pardon the pun, that they have downed their tools due to poor pay, and left patients to their deathbeds.
My 5-year-old daughter Chelsea put away her plastic doctor kit the other day saying, "Daktari ata hawana pesa."
In a country led by government gluttons, we must look far beyond our borders, across a continent and a sea, to find a hero every chap can look up to, like the late Fidel Alejandro Castro (bet you didn't know his middle name was 'Alejandro').
One – Pursue your big dream
No woman likes a mere dreamer for a man, but every lady loves her man a bit ambitious. So set big but realistic dreams, something within your abilities, but still very hard to achieve. Castro's ambition was to overthrow the corrupt and rotten to the core regime of one Batista, in which he failed, then succeeded.
Two - Preach, brother, preach
ALSO READ: Kenyans unimpressed by gender ministry's support for Anne Waiguru after impeachment
You may not have a pulpit like a pastor or a politician, but you can inspire other people through talk, writings or even your actions, beginning with your own kids, colleagues or even classmates. Castro could speak for hours, outlining the revolution and his plans for it.
Three – Survive like a rat
The other day, my writer pal Kiprop Kimutai commented that he is fascinated not just by my smarts, but 'you seem to survive like a rat, even in the face of foes.' Now, while I do not appreciate being compared to our closest relatives rattus rattus (we share 98 per cent similar genes, even more than with chimps at 96 per cent, something else I bet you didn't know, Alejandro!), the point is you've got to survive before you thrive. Fidel Castro survived dozens of CIA attempts on his life across the decades. Do not fear life's human foe.
Four – Follow up on your foes
Castro chased his worst enemies across the sea, so they could curse him from Miami, but do no more harm.
Five – Help your friends
Castro helped African brethren like newly-independent Angola against apartheid South Africa. As Mandela said, telling off Washington DC, 'your only brother is the man who is with you when you are down.' Not on top.
Six – be a responsible man
Castro did not steal money from the Cuban State to build himself monuments and mansions. Instead he created a great health care system for the common people. This long weekend, determine to be a better father or whatever, to make sure your near-and-dear are well. If you are a leader, those are wananchi.
Seven – Dress the part
Be who you are, right down to your clothing, and create your personality. Castro had that beard, green uniform and that revolutionary look. He owned it, as they say. Own you!
Eight - Enjoy life
Enemies say Fidel enjoyed his mistresses and mojitos. The fact is he liked his Spanish wine and Cohiba cigars. And so what? Life is short (although Castro did live to be 90).
Nine – Education is key
Castro made sure Cuba had one of the highest literacy levels in the world. Make it a point, starting now and not New Year, to read one book a month (although the fact that you're reading this is commendable).
Ten – and when it is time to let go,
of anything, just let go. Do not cling on hard when it is time to say 'dasvidanya' (goodbye, kwaheri) – whether love, or life itself. And, now, it is time to let me go.