Home
/
Memories of Hillary's past visits to Kenya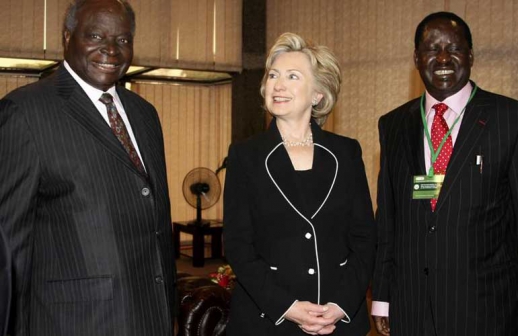 On her first visit to Nairobi in 2009, a journalist asked Hillary Clinton about a marriage proposal to her daughter by a Kenyan.
Ms. Clinton, wittily dodged the question, only saying that her only child, Chelsea Clinton, then 29, was "very independent".
However she promised to convey the message from love-smitten Gideon Kipkemoi Chepkurgor to Chelsea.
Time has passed since then, and Chelsea has since got married.
Exit polls placed Clinton ahead of her main challenger, Republican Donald Trump, which placed her firmly on the road to succeed Barrack Obama as President.
Chepkurgor had written to the White House in 2002 asking the then President Bill Clinton for his daughter, and even offered 40 goats and 20 cows as dowry.
But the request and Mrs. Clinton's response would form the lighter side of the visit by the then top diplomat of President Barrack Obama's first term, a year after the deadliest violence rocked Kenya following the disputed elections held in late 2007.
At least 1,300 people were killed and more than half a million displaced, sending shock waves beyond the East Africa region and to the dismay of the entire World.
Obama, who has his paternal roots in K'ogelo village in Siaya, had taken the conflict personally, sending Clinton-then his Secretary of State, to deliver his frustration about the slow pace of reconciliation.
Ms. Clinton arrived in Nairobi late in the evening on August 4, 2009, and immediately settled down to talking about the reform agenda and punishment of post-election violence suspects.
Already, a Cabinet decision had been taken to drop a proposal of establishing a local tribunal that would have investigated and handed down punishment to the offenders.
Parliament had also voted in favour of having the International Criminal Court to try the suspects, in a case that has since collapsed without a single conviction.
Clinton's formal meeting was with then President Mwai Kibaki and Raila Odinga, then the Prime Minister of the Grand Coalition Government, before opening the African Growth Opportunity Act summit at the Kenyatta International Convention Centre.
"The US was instrumental in resolving the crisis that afflicted Kenya. Unfortunately, resolving that crisis has not translated to progress for Kenya," Clinton said amid warnings of possible sanctions targeted at specific leaders thought to be frustrating the reform agenda.
She joked that a Nairobi hairdresser who fixed her hair that morning had done a good job, quipping that her hairdos had been a subject of a PhD thesis.
Three years later, in August 2012, Clinton visited again but this time with a softer message; asking the country to consider the use of electronic voting in the upcoming polls as a way to avert the contest that led to the bloody 2007 post-poll chaos.
She called for a free and fair elections.
Her message from her then boss and potential predecessor Obama was that there was too much at stake for Kenya to get it wrong again in the elections.
"The world will be watching Kenya," she said.
Four years later, the world is watching her in the race to US presidency.
Related Topics