Nancy Nzau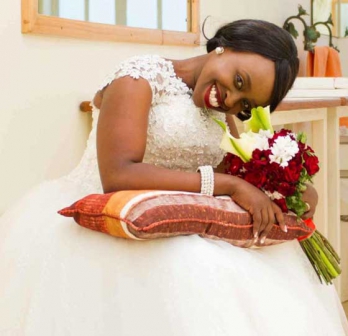 BRIDE: Faith Muturi
ALSO READ: I crochet swim suits and bridal gowns
GROOM: George Ngugi
DATE: 31st December 2015
GUESTS: 1,400
VENUE: Karen
DATING
FAITH: We met in church. On our first date we went for a play, then dinner. My favourite thing about him is that he is really good with details and is so thoughtful. We are similar as we both like adventure and the outdoors.
Different in that he's really big on structure and sticking to a fixed plan. I'm very spontaneous and open to pleasant surprises and changes along the way. The only thing I'd change about him is his attention to detail. Everything must add up, which makes it so hard to surprise him! Thankfully, we pulled a good surprise on him for his last birthday.
ALSO READ: It's been a minute! Lulu Hassan and hubby Rashid celebrate 11th anniversary
GEORGE: I like her because she's a wellspring of joy and positive energy. The one thing I would change about her is the fact that she's so crazy about surprises.
THE PROPOSAL
FAITH: He blew me away... proposed three times. Three rings, three days, three locations - Kempinksy, Rift Valley and Limuru. It was so special. When I asked him why three rings, his response was, "The Bible says a three cord strand is not easily broken." So that's him, me and Jesus. I said, "yes" because he loves who I am, not what I am. He loves me in spite of me and we are surrendered to Jesus.
GEORGE: I chose her because she loves me for who I am, accepts my shortcomings and is my greatest cheerleader.
THE DRAMA
FAITH: We had locked down on the gown three months before the wedding. Nine days to the wedding, more like four days to, considering Christmas and the weekend, the suppliers shifted goal posts. That was totally unexpected as we had had communication and finalised on the agreement.
I was disappointed but somehow I didn't panic. A lady named Jeniffer had just come from the States and opened her bridal shop. I got to rent two of her new designer gowns. God so worked it out! I actually did three white dresses including the evening party. As one of our mentors loves saying: "Mungu wa Harusi"- He always comes through!
ALSO READ: 'Rude' couple's wedding invite blasted as they sort guests into three categories
Estimating the number of guests that would attend was a challenge. Since we chose to keep it open rather than invite only, we feared that we would be unable to cater for the numbers. We're happy to say that our prayers were answered and that there was more than enough food for everyone.
MEMORABLE MOMENTS
FAITH: My most memorable moment was when my parents handed me over and reminded me that the presiding minister - Bishop Masinde - dedicated me as a baby, and that they have seen the prayers he made become a reality - that I would be a source of joy.
Somehow, I was a serious cry baby, but that changed to a jolly, happy girl. Now I understand why I'm always smiling! (Laughs) It reminded me that God keeps his promises through generations, so we can trust Him concerning our marriage.
GEORGE: The vows. I got emotional - it was such a God moment, really a covenant experience - beautifully so. I meant every word more than I could explain.
HONEYMOON
We did three locations. Nairobi, Limuru and Zanzibar. We hope to go to the States later this year- yes, the honeymoon won't stop.
ADVICE
It is totally worth the wait!! We are so glad we waited and honouring God is just priceless. Yes, it's possible. The lessons learnt in waiting have taught us invaluable lessons and helped us grow in character. I have so much respect and admiration for George.
WORDS: Nancy Nzau
PHOTOS: Courtesy