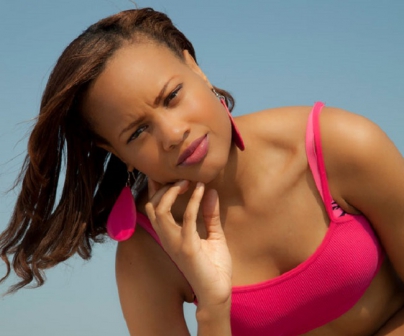 They are divas on the streets, rocking six inch heels or cute ballerina flats, dainty dresses or edgy distressed jeans, perfectly done make up, smelling like a flower straight from the gardens of Paris, fresh mani-pedi every week.
ALSO READ: Dressing hacks every lady needs to know
They will leave the Horny Henrys' drooling after them and the Plain Janes' looking on with envy. But do not be fooled, they may breath-taking on the outside but they are far less from beautiful on the inside.
Well, there are beautiful girls who have brains. Beauty and brains have out rightly been described as lethal combination for what its output can do, not just to the cathedral of salivating team mafisi, but also to the society in general. But we are not going to talk about these kind of ladies today.
Let us call her Miss Pretty, the beautiful girl with weird and ugly characteristics that you will only discover once you get to know her well. Some traits are tolerable, others… well, read on and decide for yourself.
Dirty.
If you think that only men have the nasty habit of wash and wear, then think twice. Miss Pretty has a heap of dirty clothes piled up since last month. If she wants to go out, that is when she will select the one she needs to wear and wash it.
She is disorganized, her closet looks like it has been hit by an avalanche and she is also notorious for mixing the dirty clothes with the clean ones.
She has a classic collection of shoes, some of them even lie forgotten under the bed, covered with mud from last week, and just like the clothes, she will wipe it when she needs to wear it.
She never does her make up in one place she needs to be wear the light is brightest. Before she leaves the house, her pons will be strewn all over the table and if someone else doesn't wipe it. It will remain there for days.
On some days, she can take her level of filthiness a notch higher (brace yourself, this is the ugly one) these are the days when she gets careless and leaves her used sanitary towel in the bathroom, the most irritating thing about this is that she always claims to have forgotten.
Lazy
There is nothing wrong with being lazy, We all love ourselves some good idling time, but when the need to get out of bed and get some work done arises, we do it, but not Miss Pretty.
Why do you think she has a heap of dirty clothes, leaves in an untidy house, her expensive TV and home theatre are covered in dust and her bedroom is so stuffy (mixed with the scent of heavy perfume and the stench of grubby clothes) but she doesn't seem to notice it?
The kitchen sink will be stacked with dirty dishes from yesterday; she will seat on the couch watching E! Entertainment or one of Beyoncé's killer performances on YouTube and paint her nail, this she does so that she can get an excuse for not doing the dishes. Her nails are still wet from the polish.
Not so bright in class
Miss Pretty may excel in other areas but definitely not academic work, mathematical formulas, chemical equations and physics calculations all sound like solving a complicated Greek puzzle. The only thing she may be slightly good at is the languages. The problem with some of them is that they completely lack an interest and do not show an effort.
Blondes
Remember watching the romantic Disney flicks where the maiden at hand is a pretty-blue-eyed blonde who spends most of the day collecting flowers, and singing with the birds and batters her eyelashes at her admirers and giggles foolishly whenever they complement her?
Now you know where the word blonde came from.
There is an evil (and smart) witch plotting against her but she can't think of a way of to save herself, brave Tom will ride his way into the castle and rescue the damsel in distress.
Miss pretty cannot think beyond her Brazilian weave and make-up. She is ignorant about important issues that affect the society and couldn't care less. She has an opinion on nothing except for why Kim Kardashian shouldn't be living with her mom as she renovates her house.
For More of This Stories Subscribe to the Standard Epaper to get a copy of Eve Woman in the Standard
You cannot have a sensible conversation her, she reasons like a 12-year old girl, she cannot support her argument with strong facts and has an annoying know-it-all attitude.
Thanks to Franco, she walks around with an IPhone 6S, completely oblivious of the technical capabilities of such a phone, in fact the reason why she has it is because the camera has high megapixels and it is the perfect phone for a selfie. After all, the most visited site on her phone is Instagram.
Even in this fast paced digital era, she is not techno-savvy (not even slightly) she does not explore the internet but she is on the highest level of Candy Crush.
Sugar Daddy type
Granted, some of them genuinely take care of their own looks using their own money, but maintaining the diva status can be quite expensive that is where the human ATM comes in. The more the merrier, the cash will keep flowing.
Baba Jimmy pays the rent, Baba Mike makes sure she is entertained every weekend, Baba Brayo is for shopping and Franco (the Italian guy she met at a club in Westlands) keeps her in furs and pearls. Denno (the real but clueless boyfriend) sends airtime.
Slutty
Is it possible to have a sugar daddy and not sleep with him? Me thinks not, I give you, you give me. Quid pro quo.
Wild party animals
Depends on your definition of fun, to Miss Pretty it's to get high. Some of them even do drugs, maybe not the hard stuff but they are just getting warmer. They like having a good time but they are never in control.
They get disorderly and start a cat fight in a club. If they are not peeing on themselves they are probably being carried inside the house on a male friend's back because they are too drunk to walk.
Poor decision makers
Comes with being a blonde, Miss Pretty has her own clique of beautiful, stylish bffs who come from affluent families. While in campus she lived outside the affordable school premises and paid her own rent, her shelves were lined with expensive goodies, she was club hopping every weekend, changed her hairstyle every week and had a different designer handbag every day.
Come exam time, Miss Pretty always had an excuse "sitting for CPAs in town which are colliding with the exam calendar" or "had to travel back home urgently"
Peer Pressure: Miss Pretty doesn't always fit in, but she will do whatever it takes to be part of the clique.
By the time you finish reading this, you will either be nodding your head in agreement or muttering curses at me. That is why I cannot end this article on a negative note, you see not all beautiful girls are messed up, (just most of them) on the contrary we have girls who are pretty, clean, intelligent and independent, the complete package they are called. The only problem is, they are extremely rare to find.
Do not miss out on the latest news. Join the Eve Digital Telegram channel HERE.
The views and opinions expressed here are those of the author and do not necessarily reflect the official policy or position of Evewoman.co.ke