Doreen Mwendwa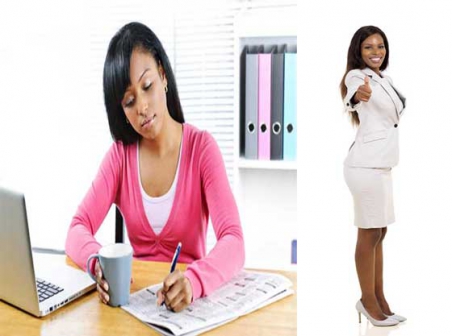 Who is a corporate diva? Think Beyonce but in a boardroom. A woman in control of her lair. One who inspires confidence in her juniors and seniors, puts in the work as much as everyone else, makes her charges accountable and still manages to make them feel appreciated. If a boss, this is someone who rules the organisation with high efficiency and even higher heels.
We all know that women get a bad rap, especially as bosses. They have been called many things, from bossy to arrogant, petty and ineffective, but just as there are bad female bosses, so are there bad male bosses.
But you can run your world with class and competence, earn your respect and standing without getting the 'b****' tag by following these 10 simple rules. Not a boss yet? Read on to glean some tips, on how not to be on your way up the corporate ladder.
1. DITCH THE ICE
QUEEN PERSONA
Granted, you want to be taken seriously as a leader or an employee. You don't want to be the one who Sandy, the receptionist calls during the weekend to let know that she has found her missing wig, or that she saw a really cool handbag at the local market. Or be the office aunt who gets loaded with all the work because you are the nice girl who won't say no.
No, but that still doesn't mean that you should be the cool distant person who doesn't care for anything or anyone except met targets. The one nobody wants to sit next to during a luncheon because they really can't connect with you. Or the boss who makes employees feel that you don't have an interest in their hopes and dreams and don't care for a fun and exciting workplace.
"Maintaining an emotional balance with your colleagues is key to how you are perceived in your organization and may impact if you will go higher," says Suzy Welsh in her book Winning. "The remedy," she says, "is in maintaining the right emotional distance. Close enough to know them yet distant enough to lead them."
2. WALK YOUR TALK
You need to set standards and keep them. In any organisation, there are targets to be met, sales to be made or deadlines to be kept. And it is your job to ensure that your work gets done. A corporate diva knows that she leads by example.
Don't be the one late to meetings, delaying procedures because you had to pass by the salon on a Monday morning. Respect people's time and efforts, and this will not only get noticed by your superiors, but also your juniors will be inspired and strive to excel.
Nicki Minaj, one of the highest paid artistes in the world says in her documentary, My Time Now, "I put quality in what I do. I spend time and I spend energy and I spend effort and I spend everything I have, every fiber of my being, to give people quality. And that gets me noticed and I am paid well for it."
So go on, work hard, give your best and it will be noticed for sure.
3. GIVE AND ACCEPT
DUE CREDIT
When you do a great job and it is recognised, don't be the person that puts herself down by making self-deprecating remarks like "Oh, it wasn't much!" or "It really wasn't a big deal." Instead, graciously say, "thank you." "Women have a harder time accepting compliments and this sets them back in their career. Men on the other hand will accept credit for much less more enthusiastically," said Oprah at the Women's Congress in 2005.
If they don't seem to notice your work? Mention it at the review meeting. In the same spirit, if it was a joint task where effort was input by your colleagues, let it be known too. Taking all the credit for work shared is a selfish move and will create resentment from your colleagues.
4. NETWORK
Sometimes, all you want to do after work is to rush home and flop on the sofa and binge watch Scandal. If you have a family, you may want to spend time with them every time you are away from work. But to grow your career, you need to find some time to attend the events that have your industry's decision makers and career shapers.
Look for someone who can keep you informed of such events. Keep in touch with the supervisor who left your company to join your 'dream' company. Do informational interviews with higher ups of organisations. Who knows, they may just know or happen to hear of the right role for you.
5. EXTEND A HAND
As you go up the ladder, pull others along with you. Say you get the coveted managerial position that requires an assistant. How about you recommend the reliable one you previously worked with? Or ask to get a few of your old team mates to work with you? "That way, you uplift deserving colleagues and at the same time, inspire loyalty in the people around you. And they will do such great work under you that there will be another promotion quicker than you think," says Miuccia Prada, the head designer for Prada fashion house.
6. DO WORK NO ONE ELSE WANTS
How else do you think that you will get recognised in a room full of equally well educated peers? In her book Lean In, Sheryl Sandberg, the Facebook COO says that executives, when overwhelmed by whom to place in a position when they have many qualified applicants, their obvious choice is the one who goes above and beyond to get the work done, the one who will take over tasks others quickly pass up. That is how they pick dedicated employees. So take on the extra duties, not only do they build up your resume' but also get you quicker up the prime position.
7. HAVE A CAREER STRATEGIC PLAN
We spend so much time at our work places that you can't afford not to have a clear plan on where you are headed. Draw up a plan and have a timeline. Take some evening courses if that will help transition much quicker. "Do not leave your career advancement to luck. Study people who are doing what you would want to do someday, find out what their journey was, then buckle down to work," advices Linda Quast in her book Your Career Your Way.
8. BE PROFESSIONAL
AT ALL TIMES
Be courteous to clients and colleagues; don't be on Facebook or WhatsApp on your phone in the boardroom. Don't interrupt meetings to answer personal calls. Also, a corporate diva knows how to handle her emotions at the workplace. She won't be the one bursting into tears after a reprimand or resorting to blows and insults after a disagreement with a colleague.
Doing all these shows that you aren't in control of your life. And it also depicts emotional immaturity. Also, look the part. As the old saying goes, 'Perception is reality.' You will get recognised for a part much quicker if you already look the part. Invest in your work wardrobe; from your outfit, hair and make-up. We have often heard that we should dress for the job that we want. So, yes, get a few professional suits if you are eyeing that managerial position.
9. BE PASSIONATE
Love what you do. Embrace your work, and if you really don't love it, get out and go for what feels right for you. That is the only way to give your best and thrive professionally. In a past interview, Anna Wintour, Vogue's editor and the classic corporate diva says, "If you can't be passionate about who you are and what you are doing, how can they [your audience] be? You aren't fooling anyone."
10. GET MENTORED
Get someone you admire and who is doing what you wish to be doing someday. Find a creative way of getting close to them. When you establish a relationship with them, you will benefit immensely from their insight and experience. And they will also want you to succeed, and this way, will inform you of great opportunities to take up.