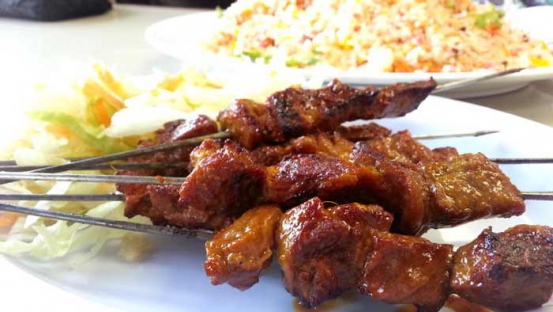 Your New Year's Day 'mbuzi choma' leftovers are still in the kitchen, so what to do with some of it to give it a different twist, without much effort. Here is a recipe that can do just that. If you do not have yellow peppers, go ahead and use green peppers. The secret to making them less tangy is to soak them in water and sugar for about an hour or so.
Serves: 4-6
Prep Time: 5mins
Cook Time: 10mins
Ready In: 15mins
Ingredients:
? 500g leftover goat meat, cut into strips
? 4 yellow peppers, finely chopped
? 2 cups cucumber, finely chopped
? 2 onions, finely chopped
? 2 handfuls mint leaves, finely chopped
? 4 tablespoons brown rice, raw
? 4 tablespoons olive oil (alternatively use vegetable oil)
? 2 tablespoons lemon juice
? Salt & black pepper to taste
Directions:
Add approximately two tablespoons oil into a pan. Once hot, add the lamb to it and sauté it on a high flame along with a bit of salt and pepper for about a minute. Keep this aside.
For More of This Stories Subscribe to the Standard Epaper to get a copy of Eve Woman in the Standard
Similarly, sauté the bell peppers and the onions separately and keep aside.
Now, dry roast the brown rice until crisp and keep it aside as well. If you don't have an oven, heat a heavy pan, add some oil then add the brown rice, keep tossing until roasted.
Arrange all these ingredients along with cucumbers and mint leaves in a salad bowl and chill it in the fridge.
Take a separate bowl, add all the ingredients into it except for the brown rice and whisk it well.
Finally, add this into the salad. Toss it well and garnish it with the roasted brown rice.
Chill then serve.
Do not miss out on the latest news. Join the Eve Digital Telegram channel HERE.