Your words are your thoughts; your actions are your future
Readers Lounge By
Janet Machuka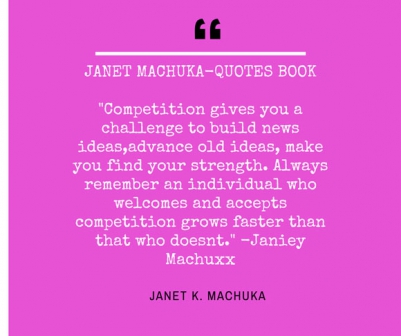 "Let nature take its cause." Right. Most of us at times we use these words to refer to our situations.
Well, just imagine if we are to sit and wait nature to take its cause without involving our decisions and actions. Will you still say let nature take its cause?
Get up and do something about that confusing situation or status of yours. Nothing of worth comes to us without action. We hear a lot that people say. We listen to them but act less. The failure to succeed is failure to act.
Do not dwell so much in managing your stress. Spend that effort in dealing with the management of your time in a positive manner. Remember life is like a business. Every time a plan fails you look for another way you can get to the top.
Some get into relationships. Maybe they are happy being with the partners they have chosen. Maybe they are just enduring with their partners. There is too much of mutual attraction and the only thing both of you can talk about is how you feel each other. That is a waste.
There's no time to discuss future plans. There's no time to act in all those plans you are building in your thoughts. "I would like us to live in a fancy house, beautiful kids and a luxurious lifestyle where money is not our major problem." You see yourselves having all that but not in reality.
Dreams are built. Dreams kept alive are future come true. Keep them alive. If you sit and wait for bait, you will end up in a rat trap. A trap where releasing yourself will be a real struggle.
So, stop the habit of letting nature take its cause while you can act. Those words can make you the poorest man that you have ever imagined. It is not all about boasting how rich you are in words. No. Be proud of what you say accompanied with actions.
After acting then you can proudly say let nature take its cause. Be wiser among the wise.