Sylvia Wakhisi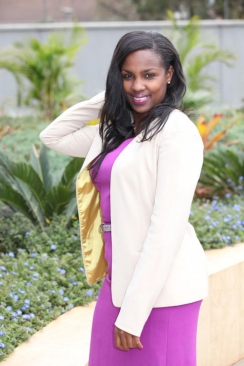 She is beautiful and vivacious. She has a soft voice that would easily sway you away. To cap it all, she has the brains and has been able to become what she wanted to be simply because she did not shy away from anything that interested her.
Meet engineer Michelle Boit who has carved a niche in the male dominated field of engineering.
Boit works with Tullow Kenya as a Completion/Well Integrity Engineer, a job she never imagined she would one day take up. Her father dared her to put aside her accounting prowess and pursue engineering. It turned out to be a beneficial dare.
"Back in high school at Kapnyeberai Girls (now our Lady of Victory) in Lessos, Nandi County, though I was very good in sciences, I really enjoyed accounting and was sure that was the career I would settle on. Little did I know things were going to take a shift," says Boit.
Today, she loves and enjoys being in her boots and overalls doing what she loves most.
Boit was born in Texas where she spent her early years of life before her parents moved back to Kenya and settled in Eldoret. As the first born in a family of three siblings - she has a brother and a sister - it was upon her to be a perfect role model to them, something she gladly strived to work on.
"Being the first born meant my siblings were looking up to me. It is a nice feeling but also challenging. In the Kenyan culture, it meant that I had to set a good example to them, support and offer some guidance if I wanted them to emerge successful," says Boit.
Her late father was a Professor (Biochemical and Environment) at Moi University while her mother still works as an administrator at the same university.
According to her, the death of her father in 2008 came as a shocker. In her own words, she says, "It was crazy how I got the best of my mum and dad. My dad was the only person I could talk to about engineering. He was very good in sciences. He was my greatest supporter and coping with his loss has been tough. I still shed tears whenever I think of him."
Even though she got pregnant while in campus, she did not let that be the reason to give up on her goals and dreams. Rather, she put up a spirited fight and emerged victorious.
"After high school, I went on to sit for an exam at Strathmore University which would allow me to enrol for an accounting course. But my dad felt otherwise. He persuaded me to pursue a course in engineering and if I found it difficult along the way, I could relinquish the path and go back to accounting."
Heeding her father's words, Boit, who describes herself as a go-getter and one who never easily gives up decided that she would go for Chemical Engineering. However, once her KCSE results were released, the scores did not match her expectations and she could not pursue the course she wanted. Instead, she had been selected to pursue a course in Agriculture which she says she wasn't comfortable with.
In 2001, Boit decided to relocate to the US hoping to pursue her dreams.
As she tried to adjust to the new culture, she went round in search of a job and managed to secure one at Walmart supermarket.
While still working at the supermarket, in 2002, she joined Amarillo Community college in Texas to pursue a course in Chemical engineering.
She offers: "I would attend classes from morning till noon and then go to work in the afternoon. That way, I was able to pay my bills and buy any stuff I needed for my school work. The balancing was tough but I was determined to sail through."
After two years at the community college, Boit joined Texas Tech University in 2004 to advance her course.
"I had developed a big love for engineering. My grades were very good and I was always on the Dean's List, something that motivated me to work harder," she says.
As she carried on with her studies, she realised that she was pregnant hence in 2005; she took a break to give birth and take care of her daughter.
She explains: "It was a very tough chapter but I had purposed to give my daughter life. Many people thought that would be the end of my studies. But I thank God for my parents who were very supportive and even wanted me to bring my daughter home so that they would take care of her as I carried on with my studies. After one year, I resumed my studies amid a very tight schedule. I used to baby sit while doing my assignments and projects. I never missed class since I had good friends who all wanted a chance to baby sit my daughter as I went to class."
According to Boit, whenever they closed campus, she would still work at Walmart, putting in many hours as much as she could and still managed to maintain her grades.
"When I applied for summer internship, most engineering companies wanted to give me the opportunity. Here I was, a third year student called for about 10 interviews! The feeling was great as it made me realise people out there were recognising my efforts. I chose to go with BP (British Petroleum) where I worked in the oil field as a field engineer for about three months," says Boit.
"It was an eye opener and I enjoyed every bit of the experience. I am glad that I had a very good mentor that guided me through my internship. I crossed my majors - chemical engineering- and went into petroleum. But the two are closely related."
After the internship, BP had already given her a job offer. She went on to clear her studies and graduated in 2008 with a Bachelor of Science in Chemical Engineering. She then joined the company officially as a full time employee.
Says Boit: "I was based in Amarillo, Texas as a Field Production Engineer. I worked there for two years then moved to Houston, Texas the company's headquarters. In Houston, I was supporting a field in Wyoming State and after two years I went on to support another field in New Mexico. From that experience, I felt I was ready for change."
It happened that an Africa Summit Job Fair was being held in Houston and Boit was among the people attending. She got to meet employees and representatives from Tullow, the oil exploration and production company that discovered oil in Turkana County.
"They subjected me to an interview and were impressed by my performance and qualifications. The expertise they were getting was people in the IT field and support engineering but not in petroleum," she says.
"Since it was in December 2013, I had planned to visit my family here in Kenya for the Christmas holidays. I was informed that I could visit the Tullow office and even go to the field to observe what was going on. I went to Turkana and was impressed by its richness and the potential it had. When I went back to Houston, thoughts lingered my mind on whether to move back home or stay put. Was it the right thing to do? I decided I wanted to make a difference in my country hence made up my mind to come back to Kenya," she explains.
Boit officially joined Tullow in July 2014 as a Well Services Engineer supporting the entire East Africa region.
"You might be wondering what a Well Service Engineer does. Basically, once a well is drilled, the well service engineer comes in to maintain its integrity and secure it before we move to the next phase. It's an exciting job," she says.
Boit adds: "Many are the times I travel to the field and stay in Turkana supervising on-going works. I also go to Uganda to supervise well integrity activities and thereafter have to sit down write reports and forward them to my superiors. I never imagined that oil would one day be discovered in Kenya but here we are. We must make the best of this opportunity."
"Being in a male-dominated field has been a wonderful experience altogether. I have really enjoyed working with men and one virtue that has kept us going is respect. I respect them and they respect me back. It's a two-way work relationship and we have all worked hard to earn our positions," she explains.
Despite her busy schedule, Boit has not neglected another important role in her life - motherhood. She is quick to attest to the fact that being a single mother of two with a demanding job has not been easy, but has involved lots of planning and communication between her and her children.
"I always sit down with my kids - Meghan who is 9 and Gabriel who is 6- to explain to them what my job entails especially the travelling bit. They understand that I have to go to work in order to support them. When I am around, I give them 100 per cent of my time. They have adjusted very well to the Kenyan system and speak fluent Swahili," she says.
How does she unwind?
"I love spending time with family, reading, networking, travelling and visiting historical sites," says Boit who also runs an accessories business dubbed 'Walk with Class' situated at Valley Arcade.
In the male dominated engineering world, Boit has certainly made her presence known and hopes to inspire more girls and women to follow her path. That is why she has started mentorship talks.
"I have been going back to my former high school to talk to the girls and give them courage to do what they love, pursue their goals and become successful. We are in the process of registering an alumni association," she says.
She adds: "I appreciate when women work with confidence, have a high self-esteem and are proud of themselves. Although it is sometimes uncomfortable for one to step out of their comfort zone, sometimes it is worth taking the risk because it can propel you to great heights of your success."