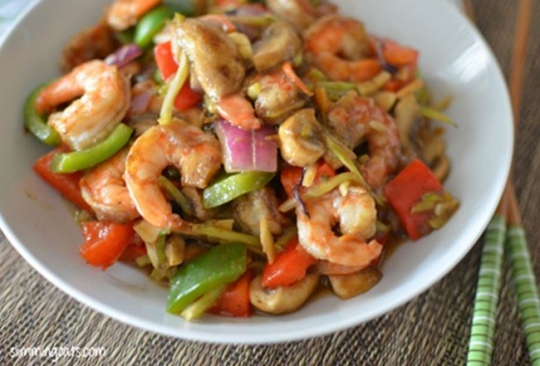 Ingredients
• 2 courgettes
• 150g of prawns
• 2 red peppers
• 1 grated thumb of ginger
• 2 crushed garlic cloves
• 1 red chili (finely chopped)
READ MORE
• 2 limes
• 2 spring onions
• 1 tbsp. of coconut oil
Method
1. Use a julienne peeler or spiralizer to make courgette ribbons.
2. Heat the oil in a pan up to a medium heat. Chop up the spring onions and throw them in for a few minutes until golden brown.
3. Finely slice the pepper and add, stirring for two minutes, and then throw in the ginger, chilli and garlic.
4. Stir-fry for five minutes, and then add the courgette and prawns for three minutes until they are cooked through. Serve immediately with the fresh lime juice and sesame seeds.