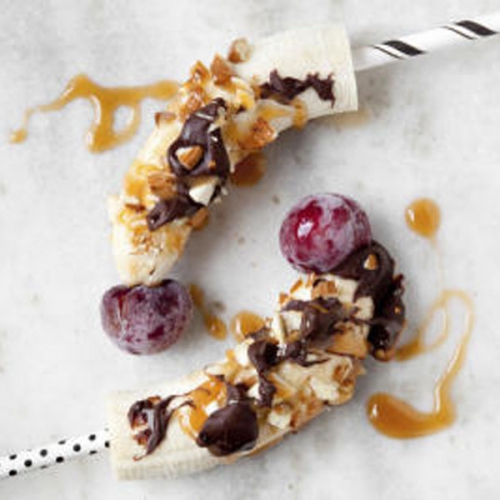 Frozen chocolate banana
ALSO READ: Seven steps we should follow when eating ice-cream, according to a scientist
Bananas, chocolate and nuts. Kids love them all. Combine them all into one and you're the best mum ever. A great treat for the holidays at home.
Yields: 8
Prep Time: 15 minutes
Freezing Time: 30 minutes
Ingredients:
? 4 ripe bananas, peeled
? Wooden skewers
ALSO READ: #EasyRecipe: Calamari pasta
? 200g dark chocolate
? Nuts, crushed
Directions:
Cut each banana in half crosswise and insert a skewer or ice cream stick into each half. Place on a tray cover with cling film paper and place in the freezer. Let the bananas freeze.
Melt the chocolate in the microwave or in a class bowl over boiling water.
Remove the frozen bananas from the freezer, dip them individually into the melted chocolate (coat well all round).
Place on a tray layered with waxed paper, sprinkle some crushed nuts on the bananas. Once they are all done, put them in the fridge to set.
ALSO READ: How to disinfect your food shop during coronavirus
TIP: Pour the melted chocolate into a tall glass, this is an easy way to coat the bananas.
For More of This Stories Subscribe to the Standard Epaper to get a copy of Eve Woman in the Standard
Do not miss out on the latest news. Join the Eve Digital Telegram channel HERE.