Mirror
ALSO READ: Beef soup to warm your bones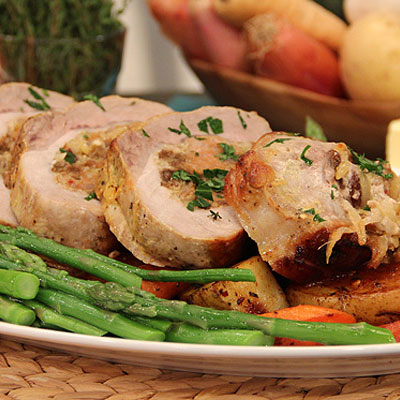 Ready in about 1 hour 40 minutes
(Serves 4)
Ingredients:
425g pork tenderloins, all visible fat removed
70g dried ready-to-eat apricots, finely chopped
Zest of 1 lemon
2 garlic cloves, crushed
ALSO READ: Three ways to make French toast
A small handful each of fresh sage, rosemary and flat-leaf parsley, chopped
Salt and freshly ground black pepper
150g pack Mattessons Lightly Smoked Turkey Rashers
8-10 sage leaves
1 small celeriac, peeled, quartered and sliced
2 leeks, cut into 1in/2.5cm chunks
1 lemon, halved
ALSO READ: Seven foods you can make with chapati dough
1.2kg potatoes, peeled and quartered
30g low-fat spread
carrots, sliced
255g green beans
2 level tbsp gravy granules
Procedure
1. Preheat your oven to 200°C/Gas 6. Cut both tenderloins length ways, but not all the way through. Place on a chopping board, separate out and flatten using a rolling pin. Mix together the apricots, lemon zest, garlic and herbs. Season and then spread the stuffing onto one of the pieces or pork.
2. Sandwich the two pieces of pork together. Arrange the turkey rashers, overlapping, on top and secure using string at intervals along the meat.
3. Place a few sage leaves under each piece of string. Scatter the celeriac and leeks into a large roasting tin, placing the pork on top and then add the lemon halves, cut-side down. Roast the pork in the oven for 30 minutes.
4. Remove the pork from the oven and give the vegetables a stir. Squeeze the lemon halves over the vegetables, then place back in the tin and cook for a further 30 minutes, covering the pork with foil if it's already nicely browned.
5. Meanwhile, simmer the potatoes in a pan for about 25-30 minutes until tender and then drain. Add the low-fat spread, season and mash until smooth.
6. Remove the pork from the oven and leave to rest while you cook the vegetables. Simmer the carrots and beans for 5-6 minutes in two separate pans. To make the gravy, place 140ml water in a saucepan and bring to the boil. Add the gravy granules, reduce the heat to low and stir until dissolved.
7. Discard the string, transfer the pork to a chopping board and cut into slices. Divide the celeriac, leek, mashed potatoes and vegetable between four serving plates and pour over the gravy. Season and top with the pork.