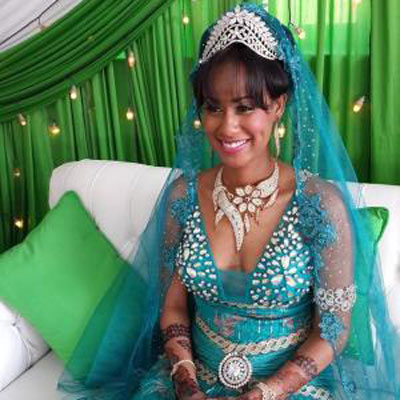 Shamillah Khadija Kiptoo,Miss Kenya 2006, and founder of 'shamillucia', a cooking website,tells us about her love for cooking and her food website.
Looks like all Swahili women have a thing for the kitchen...
Yap.. no wonder they are good at cooking.The perception, though, that we spend our lives there isn't true unless someone runs a restaurant. They are, however, very good at cooking and well, food is love.
Don't you think you guys give 'the kitchen is where women belong' cliche more meaning?
Whoever still thinks along these lines, for sure, isn't living in the 21st Century. I would be shocked if anyone would pull off such a sentence in a debate. In fact, we should now coin something like 'every woman should own her kitchen'.
You are a good cook at least from your website... where did you learn the skills?
My siblings and I always competed in cooking when we were young. My mother was the best teacher and insisted we had to learn how to cook. I 'invaded' the kitchen when I was nine and that has been my favourite place in the house since then. I have been the most creative in our family and my cooking is purely natural.
What food would you cook your eyes closed?
Over the years it has been biriani. I could not wait for Idd celebrations and any other time when my parents had guests to show off my mad skills. My husband loves grilled chicken with mushroom sauce and mashed potatoes. So I'll call it my favourite because I have to make it at least once or twice a week.
Whose culinary skills do you wish to match?
Jamie Oliver. He is very creative with his recipes and makes cooking look so simple. Plus, of course, he is a charmer.
Are there days you do not feel like cooking?
To be sincere, I never have such days. I actually look forward to surprising my husband every evening. When it backfires, he laughs but encourages me. I cook everyday, my husband is a foodie like me so my game has to be up from breakfast to the last meal.
Does being a foodie mean you can eat anything?
Not really. I was allergic to goat meat and 'sukuma wiki' when young, but I eat it once in a while. I do not like 'mutura' at all. Even if Jamie Oliver cooked it, I will never eat it.
What inspired you to launch 'shamillucia'?
For More of This Stories Subscribe to the Standard Epaper to get a copy of Eve Woman in the Standard
I have always wanted to own a restaurant since I was a child. Actually, I had a name for it "Mama Mions". I intended to come up with a menu that clients would demand even after I am long gone. But since I am not there yet, I thought the website would be a good place to start.
When not cooking, what do you do to unwind?
If I am not watching food channels, spending time with my son, or hanging out with hubby during his basketball matches, I am coming up with a new recipe for my hand-crafted natural organic soaps for a company I started two months ago. My life is full of recipes.
What do you enjoy most about being a wife?
The extra attention, the compliments, companionship, knowing that this man chose to love me unconditionally and accept all my imperfections out of a billion others.
What do you miss most about the runway?
I must say everything. The glamour, the rush, the fittings, the rehearsal, oh, and all the ladies. We rarely catch up. Growing up really sucks.
Five years from now, where do you wish to be?
I hope to finish my Psychology degree. InshaAllah in March next year, I hope my talk show, which involves food, music and fashion will be up and running. Kenyans need properly-done cooking shows that will teach and entertain them as I get to share my passion. And, of course, my son needs siblings.
What is your advice to women?
Women are the padlocks that hold the family together as much as a man is the head of the house. We should own our houses and be the change we want to see in others. Mould your kids to be descent adults, cook proper nutritious meals for your family with lots of love. Women should teach their daughters how to cook and take care of a home. I am that traditional.
Do not miss out on the latest news. Join the Eve Digital Telegram channel HERE.