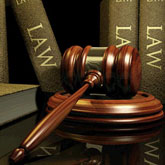 For the past fortnight, especially the first week, I was subjected to the most horrible slander of 'sexual assault', in a concerted campaign of calumny, especially on social media. But my late mom often said 'When life gives you lemons, make lemonade' (as well as money from gross defamation). Anyway, here are a few things I learnt from reading the 'Sexual Offenses Act' that I hope you, dear reader, never have to find useful.

An indecent act is an intentional act where one gets into contact with the genitalia, breasts or bums of another, or shows them pornographic material without their consent. That carries up to five years in jail and/or a 50 grand fine. Rape is where you penetrate another person's sexual organs without their consent, and attempted rape is where you try this. And both offenses carry long sentences, up to a lifetime.

Sexual assault is where one manipulates his body to gain access to another person's sexual organs or penetrates them using an object, and not for professional, properly hygienic or medical purposes. Defilement of children below 11 years carries a life sentence, 12-15-year-olds 20 years, and 16-18-year-olds 15 years, unless the offender can prove the child manipulated them into thinking they were adult.

An indecent act with an adult carries up to five years in prison with a Sh50,000 fine, while sex tourists and their facilitators can be jailed for ten years and fined Sh2m, too. In my book 'Princess Adhis & the Naija Coca-Broda' (Storymoja, 2012), I have highlighted this horrid Coastal phenomena within the whole crazy infrastructure of the narrative.

It is also an offense to cause or incite somebody to be a prostitute – although one must say there are some folks out there who need very little inciting to become harlots.

Sexual harassment means one is in a position of authority and persistently makes sexual advances or requests at work that leads to an offensive working environment or at an educational place that leads to declined educational performance. That could get the harasser three years and a fine of 100 grand. Administering a substance with intent to stupefy or overpower with the intent of engaging later in sexual activity is also a 'no no,' though I suspect those guys who take the ladies out for rugby sevens are guilty, en masse. An accused person shall not be convicted on the uncorroborated evidence of an intermediary under this Act, that is clear. Under Section 38 of this Act, it is also an offense to make false accusations of a sexual assault nature, or any other offense covered under this Act.

I find it fair, interesting and Solomonic (if I carry on in this vein, I will soon start sounding like my old Law lecturer PLO, in full flow) that the Act states that any person making false allegations under this Act shall be liable to the same penalty of the offense of which they complained. So for example, if someone accuses you of sexual assault, and the court exonerates you, your false accuser can land themselves ten years in jail for reporting a 'crime' that never happened.