Eve woman team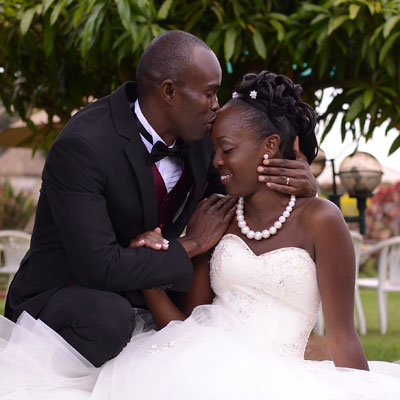 Bride: Mary Barsosio
Groom: Charles Arunda
Budget: SH450,000
Guests: 250
Date: april 26, 2014
Venue: KCB LEADERSHIP CENTRE
The first date
Mary: We met in campus outside the tuck shop in 2008. I remember him calling me by my name, yet we had never talked before. He would later tell me that he heard my friend calling me. We exchanged contacts and talked for a few minutes since we were both rushing for lectures. He later called me and proposed for a date and I agreed without hesitation. We met for coffee in a quiet restaurant, and I remember being so excited about it. We had a lively discussion, and we got to know about each other's interests and goals in life. After the first date, he asked me when we could meet again. That's how it all started.
The proposal
Mary: I was caught completely off guard. We met in town in the evening and he took me for dinner. After about an hour of dining, I remember a friendly couple joining our table, so we ended up having an interesting conversation. In about 30 minutes, the waitress brought some small nicely wrapped gift and gave it to the lady sitting on the opposite side of the table, and passed the other one to me. She said all the ladies in the room were being given gifts. I did not bother to check whether other ladies in the room also had gifts. Another interesting thing was that the emcee was now quiet and the live band was no longer singing… just instrumentals in the background. Yet I did not notice all that. When I looked at my boyfriend, he was just seated there smiling and encouraging me to open my gift. It was only after I started opening that it occurred to me that it wasn't just another item. It was a beautiful engagement ring. At this point, I was overwhelmed with the surprise as he went down on one knee and asked me the big question. When I said 'yes', everybody in the room cheered.
The drama
Charles: As we were dressing up on the wedding day, the best man noticed that he picked the wrong suit, and even worse, one with the wrong colour. He had to rush to town to buy another one very early in the morning. Unfortunately, it was too early so he had to wait for about one hour for shops to open. When he got the right fit, he still had to find a tailor to give it a good finish. We had to make sure the bride was not aware of what was going on. Fortunately, he got a nice suit and made it back on time.
Lessons
Mary: Start saving early, and plan a wedding that will allow both of you live comfortably after the event. Always pray for the wedding day and everything involved. I always dreamt of a colourful wedding full of joy, and I must say God answered my prayers.
Charles: Involve God throughout the planning process. Get ideas from people who have already planned weddings and you will get very good leads on service providers. Our service providers did an excellent job. Always choose simplicity and you will have an easy time making decisions with your partner.
Honeymoon
Mary: We were given an incredible wedding gift by Charles' family. They catered for our air tickets and accommodation. We went to the beautiful and calm Abu Dhabi and later Dubai. We had an amazing time at the Ferrari World, Emirates Palace, Yas Marina Circuit, and Yas Water World. We visited Burj Dubai Dancing Fountain, one of the largest dancing fountains in the world, and Burj Khalifa, the tallest building the world, and spent endless times in shopping malls. It was memorable moment.
Photo: Leon Muli