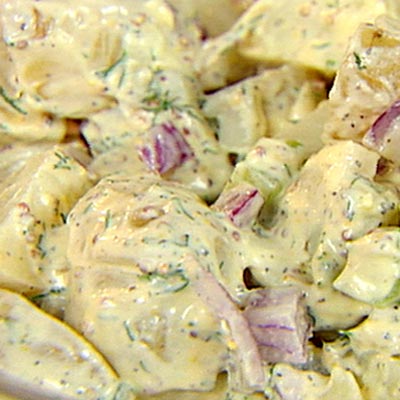 Serves 4
ALSO READ: How to disinfect your food shop during coronavirus
Prep Time: 15 minutes
Cook Time: 5 minutes
Ready In: 15 minutes
Ingredients:
• 5 or 6 large potatoes, peeled
• ½ cup mayonnaise
• 1 clove garlic, finely crushed
ALSO READ: Worker humiliated after 'odd food habit' is exposed during video meeting
• 1 white onion, chopped
• Salt & pepper to taste
Directions:
1. Cut the potatoes in quarters and boil for about five minutes (don't let them over cook). To test if they are ready, poke a skewer/knife through them. If it goes through they are ready. Drain the water and let them cool.
2. In a salad bowl, combine the mayonnaise and garlic, mix well, and add the onion, salt and pepper.
3. Add the potatoes to the dressing, and fold them into the dressing, until well coated.
4. Put the salad into the fridge.
ALSO READ: Six foods to eat during a bad stomach day
5. Serve chilled.
For More of This Stories Subscribe to the Standard Epaper to get a copy of Eve Woman in the Standard
Do not miss out on the latest news. Join the Eve Digital Telegram channel HERE.