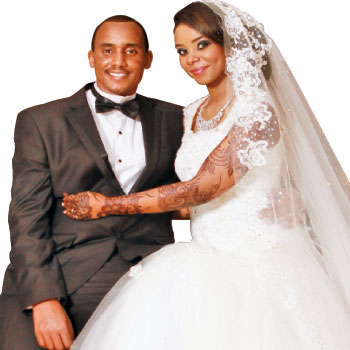 Saida Swaleh weds Abdul Jaleel Komen Photo: Courtesy
Eve Bridal: How did you two meet?
ALSO READ: Soon-to-be groom left freaked out by fiancée's family's wedding night 'ritual'
Saida: We met at a friend's place. He got my contacts and started pursuing me relentlessly. At first, I was not interested but after sometime, I gave in to his charm.
Eve Bridal: How was the marriage proposal?
Saida: Can you imagine he proposed to me in hospital after I had a sinus surgery and was still recuperating. I was simply amazed. I can't blame him because in our wedding, we broke most of the rules.
Eve Bridal: Why did you accept his marriage proposal.
Saida: He was the 'Mr Right' I was looking for and God didn't oppose it either.
Eve Bridal: Did you have traditional ceremonies?
Abdul: Yes we did, our engagement was done in Kalenjin tradition with the whole traditional attire and the Nikkah (Muslim wedding ceremony) done in full Oman gear.
ALSO READ: Meghan Markle's wedding dress featured one detail that the Queen found 'questionable'
Eve Bridal: Why did you choose your particular colours, theme, venue, service providers?
Saida: I chose green for the Nikkah because it's recommended in Islam and peacock colours for the reception, because they are trendy and fun to work with.
Eve Bridal: Give a brief recount of the wedding day, from waking up till evening and the things that were going through your mind at the time.
Saida: My wedding day was one of the happiest days of my life… with my henna all done and facial and all the little details done to prepare a Swahili bride all that was going through my mind was how it would feel after being pronounced someone's wife. Trust me; it's an awesome feeling…
Eve Bridal: What was the most challenging part while planning the wedding?
Saida: Coordinating things and also trying to merge my husband's likes and mine — that was challenging.
Eve Bridal: What part did you love most about the process of planning and having the wedding?
ALSO READ: Strict rules Meghan Markle and Prince Harry's wedding guests had to follow
Saida: I loved the fact that my husband did everything possible just to put a smile on my face by providing everything I've ever wanted to make that day special…
Eve Bridal: Did you have any fears about the day?
For More of This Stories Subscribe to the Standard Epaper to get a copy of Eve Woman in the Standard
Saida: Yes, I had fears that it would rain since it was a rainy season. But I thank Allah it didn't rain.
Eve Bridal: Is there anything you would change if you were to do it again?
Abdul: No disappointments at all. In fact, we would do everything the same way we did it including all the goofs. They made it totally worth it!
Eve Bridal: Any lessons you would like to share with other brides and grooms?
Abdul: A wedding is about how you make it, there is no rulebook. It's yours, so let it stay that way. Break all the rules if you can and don't try and do a wedding like someone else's.
Eve Bridal: What do you think is the most overrated thing in weddings?
Saida: The fuss about the big day.
Eve Bridal: What's the most important thing you learnt from your marriage counsellor?
Saida: Don't let others dictate how your marriage life will be. Live your life and make your husband your best friend.
Eve Bridal: Honeymoon?
Saida: It was just fantastic. He took me to Sychelles Mahe Island! Exotic destination.
Do not miss out on the latest news. Join the Eve Digital Telegram channel HERE.