Home
/
Easy recipe: Mutton biryani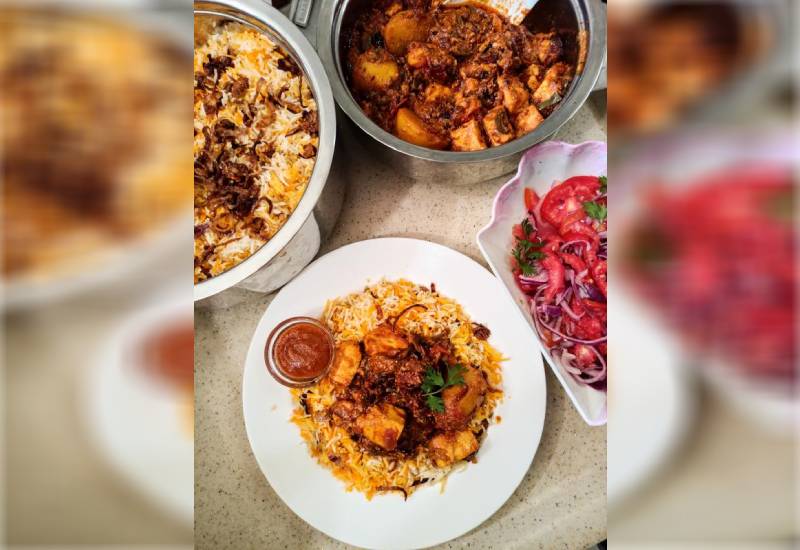 Mutton biryani is an authentic Swahili dish, which you can easily whip up at home.
What you will need:
1kg mutton (goat meat)
200g raw pawpaw, blended (purée)
500ml vegetable oil
4 large onions, sliced
Half kg potatoes, peeled and cut into halves
1 teaspoon garlic, crushed
1 teaspoon ginger, crushed
1 tablespoon whole pilau mix
1 teaspoon garam masala
2 tomatoes, cubed
1 green pepper, finely diced
300g tomato paste
3 lemons, squeezed
250ml buttermilk (lala)
Salt to taste
For the rice:
2 cups basmati rice
4 cups water
Half teaspoon yellow food colour or saffron
Half bunch mint leaves, chopped
Two tablespoons oil
Salt to taste
What to do:
In a deep frying pan pour the oil and fry the onions until they are golden brown. Using the same oil fry the potatoes till they are crusty.
Marinate the mutton with the pawpaw purée and keep it aside for about 30 minutes. In a separate pan drizzle some oil and fry the garlic and ginger.
Sautee for two minutes, partly crush the pilau mix and continue to sautee. Add the mutton and sauté some more, then add in a teaspoon of garam masala. Stir well.
Now add the tomatoes, pepper, tomato paste, and buttermilk, and stir well.
Put some salt, and add the cooked potatoes. Sprinkle fried onions on top, then add in half of the chopped mint.
Pour in the lime juice and bring to a boil; cover and let it cook for 20 to 25 minutes on medium heat.
As the mutton simmers, let us make the rice. In a pot, pour in the water and add the rice and salt. Cover and cook until the rice is almost cooked.
Now add the diluted food colour or saffron to the rice and two tablespoons of the oil you used to fry the onions.
Cover with a tight lid and put on a low flame to allow the rice to steam and become fluffy. Once cooked, garnish the rice with the remaining mint.
Enjoy with some kachumbari and your favourite chutney. A glass of cold tamarind juice would complete this tasty treat.
Related Topics