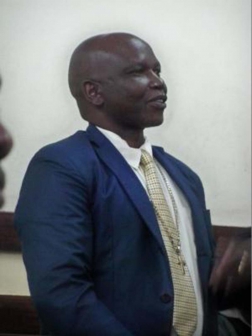 A preacher accused of conning over 20 KCSE candidates caused a stir when he asked court for time to bury a senior church member first.
Evans Karanja, (pictured) as head of both primary and secondary school sections is charged with fraudulently obtaining over Sh200,000 from the students in January 2014.
Karanja was accused by the student's parents of failing to register their children for the national examinations despite obtaining enrollment money from them.
According to the parents, the preacher had told them that the school, which is located in Nairobi, had been de-registered by the Kenya National Examinations body (KNEC). As a result, Karanja reportedly asked parents to raise money to cater for practical examinations.
The parents, the court heard, would learn in October that same year that their children had not been registered for the main examinations after a supervisor made the revelations during rehearsals.
Angry parents reported the matter to the police prompting Karanja's arrest.
In the previous hearing, the accused had agreed to refund the complainants, and have the case withdrawn. However, the prosecution told the court that the preacher had only refunded 12 parents, but could not reach an understanding with the rest. The magistrate has asked the preacher to refund the remaining parents before the next hearing.
Karanja is out on a cash bail of Sh100,000. The case will be heard on October 27
Related Topics