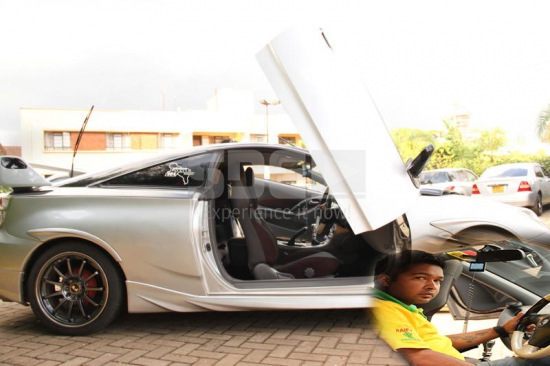 Pulse: What is the make of your car? Wayne: It's a Toyota Celica.
P: How much did it cost you? W: The original cost was Sh1.2 million. I got it from Japan about six years ago. Much later, I pimped it.
P: Why a Celica? W: Well, at the age of 10, I use to love racing cars so much and I have passion for the Celica.
P: Which additional feature did you include and how much did it cost you? W: I had to change the original tyres. As you can see, the doors are now super cool too. I also got a powerful audio system, exhaust system and amazing lights.
P: You love speed, or so we hear... W: I normally do 220km/hr. That is not over speeding as I participate in racing competitions.
P: Do you have any personal attachment to the ride? W: Personal is an understatement. I love it like my girlfriend.
P: So she has a nickname, then? W: I call her Selena! You can also refer to her as Selena Gomez.
P: Is this your ultimate dream ride? W: Well, I am still hoping to get the latest Celica sports.
P: You also own another car, right? W: I have a BMW 318i that happens to be for my daily use. I normally use Selena during weekends.
Wayne Fernandes is a manager at Hidden Agenda, Sarit Centre, Westlands, Nairobi.
Related Topics